With over 100 acts on five stages in just three days, Detroit's Movement Electronic Music Festival supplied a breadth of ear candy for attendees over Memorial Day Weekend. In lieu of a traditional American barbeque, house and techno performances were served for brunch, starting as early as noon, while after-parties fed house-heads from dinner till breakfast. The down pouring sky on Memorial Day didn't stop the music or the crowds, attesting to the biblical verse that there ain't no rest for the wicked.
In no particular order, Sparkleberry Lane proudly presents its top 10 picks from Movement 2013!
1. Nina Kraviz
The goddess of acid-house performed her set at Movement's underground stage situated beneath Hart Plaza. Just as security created a human wall to prevent the stampeding foot traffic into the pit area, Nina's devout fans scaled down the concrete walls that surrounded the stage to rage proper.
2. Nicolas Jaar
It was as if Nicolas Jaar was not only playing his set, but also playing with the weather at the Red Bull Music Academy stage the final night of Movement. As his set teased the crowd – building and building – the rain lashed harder at Jaar's undisturbed fans. Jaar grabbed a microphone and sang the sexy, Spanish lyrics to "El Bandido", buckling the knees of every admirer in the audience. 
3. Dirtybird Players After Party
The Dirtybird after party presented by Nightsneak kicked off before the first day of MEMF even shut down. Killfrenzy, J.Phlip, Justin Martin, and Claude Von Stroke spun booty-tech until sunrise, accompanied by lasers tantamount to a Disco Biscuit's show. 
 4. Break-dancers
At any point in the weekend, stumbling upon a circle of talented dancers was guaranteed. During the Masters at Work set at the Beatport Stage on Sunday night, a dance circle materialized with its own guru mediating the performers. Check out our Movement recap video for a sample – a breakdance circle during T.Williams' daytime set at the RBMA stage.
5. Stacey Pullen
Instead of taking the red pill to escape the matrix, Stacey Pullen fans chose the blue pill, remaining in his mind-bending matrix for an epic performance on night two. Check out this YouTube link  for a glimpse into Stacey Pullen's set, which blew the roof off of Hart Plaza and raised the bar for Movement performances in years to come.
6. Noisia
You know the overwhelming euphoria you experienced the first time you attended a dubstep show? Noisia, the Dutch electronic trio, revive that rapture for you every single time. Fans climbed poles, crowd surfed, and moshed as Noisia played their crowd-pleasing remixes of songs like Prodigy's "Smack My Bitch Up" and groundbreaking originals like "Tommy's Theme". This show is a must-see for all you Sparkleberries out there who are attending Electric Forest!
7. The Boiler Room
Organizing and broadcasting live shows from around the world, the Boiler Room is an exclusive, raw music experience for techno aficionados. No visual aids, no crowds, no bullshit. The Boiler Room set up shop under a tent in the VIP area of Movement and hosted legendary names like Stacey Pullen, Daniel Bell and Magda. If only we could relive the sets on boilerroom.tv (unfortunately, they are password protected!), but you can check out a clip of the experience in the SparkleTV recap video.
8. Movement Weekend Kick-off Party at TV Lounge
Barbeque and techno were the key ingredients for the Movement pre-party at the TV Lounge in downtown Detroit. The thrill of the upcoming weekend permeated the chilly, giddy atmosphere as electronic artists like Orchard Lounge, Derek Plaislako, and Cassy raged the barbeque.
9. Terrence Parker
Detroit's own Terrence Parker exhibited his technical expertise scratching vinyl at the Made In Detroit stage. Quintessential house tunes emanated from the sound system as Parker pulled out his trademark telephone, clinched from ear to shoulder. Inspired by Motown favorites, Parker turned the party out with some classic throwbacks, including Marvin Gaye's "Just Like Music". Check out this YouTube link to experience Parker's celebratory set.
10. Detroit's Lovely People!
Movement Electronic Music Festival entices electronic enthusiasts of all ages, colors, shapes, and sizes. It is remarkable to witness tiny babies bouncing around to T.Williams and white-haired couples clapping their hands to Carl Craig. While Movement attracts fans from around the world, Detroit natives were the prominent population at Hart Plaza. The city's residents venerated so much love for their city, and this sense of admiration was palpable at any stage on any day of MEMF. 
A special thanks to the city of Detroit, Paxahau, and Movement Electronic Music Festival for the wonderful experience at Sparkleberry Lane's first MEMF!
SPARKLE TV in Detroit: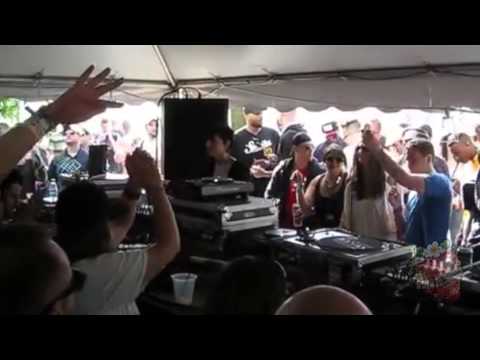 This Sparkleberry recap was brought to you by North Carolina berries, Courtney Catagnus and Richard Edens.  Feel free to contact us if there is something you'd like to share with our network. 
Stay Sparkled!

Fatal error: Uncaught Exception: 12: REST API is deprecated for versions v2.1 and higher (12) thrown in /home/content/84/6481784/html/wp-content/plugins/seo-facebook-comments/facebook/base_facebook.php on line 1273