After hearing Jessica's take on The Big Up 2010, I made a last minute decision to drive 15 hours and check it out myself. This was the fifteenth different festival that I have been to, and it was definitely one of the best ones. Normally, I notice a correlation between the number of the attendees and amount of sketchiness: the smaller festivals tend to be on the sketchier side, but, overall, The Big Up, although small in size, did not have that feeling. There was more of a family vibe and people were polite and happy.  I saw multiple children throughout the three day festival and felt like they were in good hands. Normally, a three year old draped in glow sticks running around at 3a.m. would worry me, but even before getting to know the mother I was not concerned for the toddler.
The scenery at The Big Up was amazing. It is hard to find a better place to throw a festival during the summer than New York farmland. A quick 30 minute rain storm cooled the place off on the second day and the rest of the weekend's weather was fantastic. Unfortunately, I camped by the car instead of the woods, but that will not be a mistake made in the future.  However, for those of us who did set up camp by the car it was a short walk to get to the stages. The stage set up was amazing. The main stage area was a large field with a side stage next to it making it possible to spend the entire day in that field. Towards the back of that field was a gigantic camp fire with stumps for seats. I enjoyed meeting and greeting people around the fire all weekend long. I was impressed to see the fire put to use by one guy who cooked venison on a stick. My favorite stage was the late night dance barn which is where most of my favorite acts played. The floor was covered with bouncy floor mats called Moon Mats. Although the barn was not big enough to accommodate all who tried to dance inside, Shireworks Productions accommodated those on the outside by setting up speakers outside the barn and four projectors that showed visuals and footage of the show going on inside the barn. Across the dance barn was another barn that I admittedly wandered into multiple times even though there were no acts playing inside of it and that is because it had… LASERS! The fourth stage was an addition from last year's event and located in the woods with multiple hammocks around and plenty of shade.
And now to the best part of any music festival… the music:
I arrived during the middle of Gramatik's set, and it was the first time I had seen him with a guitarist. The set by Gramatik was by far the most fun set that I have ever heard him do. The Indobox was a band that I have heard a bunch about, but have not gotten to see since I live down south. They were a pleasant surprise that mixed rock with dancy jams and it was overall a good time. Papadosio has been my favorite small band for a while now and they were definitely the highlight of the first night for me. I had just seen them three weeks before at Camp Bisco during a day set, so it was nice to see them get a late night spot and show off their ability to get down and dirty. The difference between a song like "Method of Control" from their Camp set to their Big Up set really shows off their ability to switch things up.  HiGHER ORGANiX was up after Papa, and they showed that they not only could set up that party but they could also bring it. The infusion of DJs into the jam scene has made some of the newer jam bands lock their improvisation up in favor of having a more tight, danceable sound. HiGHER ORGANiX surprised me with how risky their jams were and I had a blast at all three of their shows. More bands should be using their connections to throw festivals, because it really helps bring attention to their own band. The Polish Ambassador is always a fun time and I think his type of sound is going to catch on more and more. So many different types of people can enjoy his tunes, they will be able to make it through the fad of dubstep and beyond.
The second day I started off by watching multiple acts take on their interpretation of jamtronica. Technicolor Lenses was my favorite small act of the day. Apparently, their first show ever was at the previous Big Up. They were interesting, because they were trying to incorporate so many different genres into their sound. I haven't seen many acts pull off rapping over any king of psychedelic electronic music, but they did an excellent job. Big Gigantic is always a fun dance party and always gets the ladies moving, but it was hard to focus for me knowing that Ott was about to throw down. And boy did he ever. One of the main reasons I made the trek up the east coast was to see the Twisted Records acts. Ott ended up being my favorite show of the entire weekend. He played a set that was easy to dance to even for those who are not the biggest fans of psydub. I was most intrigued to see Digital Tape Machine, which featured Joel and Kris from Umphrey's McGee. I was interested to hear how the Umphrey's sound could be tweaked and played at an electronic-based festival. The metal riffs and progressive jams were still there but there was an added element that Digital Tape Machine provided that got people dancing the whole time. I hope Joel and Kris do more shows like this in the future.
The last day I was impressed with a lot of the acts that I have never even heard of. Consider The Source were incredible musicians. The guitar player was the most talented person that I heard all weekend: he was shredding some Arabic-Funk licks their whole set. It was interesting to see Chris Michetti play a style more based off of traditional rock in RAQ. The largest crowd of the entire festival was definitely during EOTO. The people with Saturday only passes really seemed pumped to stomp it out to EOTO. Its always funny to watch these older guys get all the young ones to jump around. I have never seen an EOTO show where Jason Hann was using the microphone as much. The song that stuck out the most to me was the "Rehab" cover- R.I.P. Amy Winehouse. Tipper was down right dirty. After looking around during that show, I am sure that a few people lost their minds. My mind was processing the noises so intently that it was hard to remind myself to move so, instead, I just stood there with my mouth agape. Luckily, Abakus played a smooth set where I could wiggle out all the creepy things that Tipper put in my head. It was my first time seeing Abakus so it was definitely a highlight for me. After Abakus' extra long set there was only one way that I would have been able to keep dancing: Orchard Lounge. Orchard Lounge is perfect for whether you are tired or raging. Spencer was missing from this show so it was just the bro and sis. This set wasn't one that is going to get released or anything, but OL never fails and I raged their entire set in the front row. Speakerbot followed up OL and kept the chill nu-disco vibes going. Half way through his set I turned around and realized that it was bright outside of the barn, and knowing that I had to drive 15 hours that same day I tried to head back to the campsite. I started my journey back, but the drums from the campfire grabbed the attention of my ears and I decided to go sit by the fire for a couple of minutes. Well, I ended up staying around the campfire for hours laughing about as hard as I possibly could for how drained I was and just watched this guy: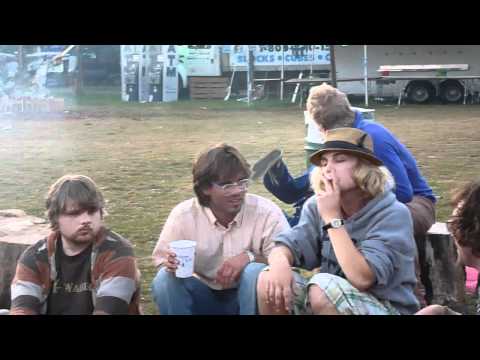 Overall, it was definitely the best festival that had under 10,000 people that I have ever been to. Two new additions to the scene that I welcomed wholeheartedly were Paint The Van and the Bunk Police. The Paint The Van crew drive a van from festival to festival and let people tag their van while getting some really well produced footage of the festivals. The Bunk Police was the most encouraging thing I saw at The Big Up: these guys set up a tent in the middle of the venue field and tested people's substances. They had a tally board for every chemical they were finding, and its sad what is going around in the lots these days. I dream that one day the Bunk Police tent will be stationed in the center of shakedown street and people are forced to test their product before giving it to other people. Whether you just watched Yellow Submarine for the first time and want to go on a date with Lucy, or you are Charlie Sheen and wanna party with strippers, everyone deserves to known what they are ingesting. Big ups to Shireworks Productions and upstate New York for letting the good times roll.
A very special thanks to Aaron Roe for his spectacular report, live, from the Big UP and the beautiful Margaret Quigley for the lovely photographs. You guys rule!

Fatal error: Uncaught Exception: 12: REST API is deprecated for versions v2.1 and higher (12) thrown in /home/content/84/6481784/html/wp-content/plugins/seo-facebook-comments/facebook/base_facebook.php on line 1273