And so another Inferno run is behind us- thanks be to The Disco Biscuits for brining us together once again to get down to some of the funkiest- and most unpredictable- jams on the scene.  April 15 – 18, 2015 marked the Biscuits fifth return to the historic Red Rocks Amphitheater in Colorado, and, in homage to the continuing legacy of the Grateful Dead, they were joined by Bill Kreutzmann and Mickey Hart (this is the third time Bill and Mickey have played with the band). The Red Rocks show was flanked by three evenings with The Disco Biscuits at the Ogden Theatre, a venue the group is well acquainted with by now, having made many appearances in Colorado in recent years (to the dismay of some East Coast Bisco lovers).
Sparkleberry Lane was fortunate to be in the crowd for all four nights, and we listened closely in anticipation of this compilation of the top 10 jams from the run. What makes a good Biscuits jam, you ask? Well, quite simply, we knew a jam was going to make the list when everything suddenly clicked – Barber was "in the pocket," synching perfectly with Magner, Brownstein, and Allen, building a groove so tasty you find yourself wishing the moment would never end (and for a fleeting instance you sadly remember it inevitably will). It's the moment when you feel everyone in the venue completely locked in to what's taking place on stage- the excitement is palpable and in between your well honed head wobble you exchange grins with elated fans around you. It's that moment die hard fans remember "Oh yeah, still the greatest band on Earth!" and n00bs are converted into followers. So while we cannot claim to speak for everyone, these are 10 of the moments when we had all of the above feelings. They are in chronological order, so save your quibbles. Rather, if you think a certain segment should definitely be listed and is not, please comment below! We had a blast raging with you, and if you weren't there- DL the soundboards and get a dance party going.
---
1. Confrontation | Night One | Ogden Theatre
Find this jam 5 minutes into the Confrontation and you'll hear instantly why it was a highlight of night one. All of a sudden we went from an emotional singalong to straight up filthy dance party. For us, the highlights of most shows lie not necessarily in the songs chosen, but how dirty they break it down in the middle of a song. This jam was prime time Biscuits breakdown- Mags and Barbs lay down the straight up funky funk.
---
2. Rockafella Encore| Night One | Ogden Theatre
This song is a beautiful old days of Bisco throwback, and, having only been played a handful of times in the last five years, delighted every seasoned ear in the venue. The unmistakable, playful melody and carefree lyrics make you feel like you're indeed rollin down the highway feeling like a king, with your head out the window and girl that wants to sing. The jam gets rolling 4 minutes in, and peaks epically right around the 7:50 mark. It was the perfect nightcap to the start of the run.
---
3. Story of the World > Tricycle | Night Two | Ogden Theatre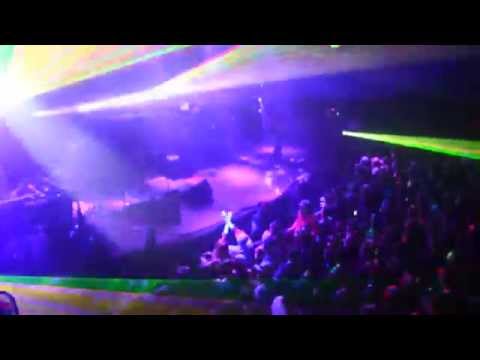 Story of the World was well received, considering it had been teased all of night one. The song itself had some nice exploratory action, with all four bandmates playing off of each other and taking the jam in many directions while maintaining a driving rhythm. They brought the exploration beautifully into Tricycle, and Brownie's driving bass broke that down into another dirty dance party right around 4:10. Strap in, cuz Barber blasts off into outer space for a minute in this segment. Story isn't finished until the end of set two.
---
4. Magellan | Night Two | Ogden Theatre
Magellan is fucking epic. Literally- the lyrics tell the tale of an epic hero's journey, and the music weaves through the tale and gives it emotion and intensity. If you haven't shed a tear at least once while listening to this song you may be made of stone. This is one of the most ambitious Biscuits songs ever written, and showcase's the band's penchant for classical melody and composition. Even more epic is the fact that we got to finish this saga at Red Rocks the next night. If you close your eyes around 5:22, when Allen really lays down the bass drum, you indeed feel like you are Magellan, staring down a stormy ocean from the mast of your ship.
---
5. Space | Night Three | Red Rocks Amphitheater
With Mickey, Bill, and Allen on three separate drum kits, plus Tom Hamilton on guitar, this improv time really set the mood for the rest of the night. We had been anticipating a torrential snow storm in the days leading up to Red Rocks, and although the forecast improved considerably by Friday, precipitation was still a high certainty. We were already well into set two and nothing had yet fallen from the sky…until this.  As the jam built, so did the weather. Right around the 8:50 minute mark, as the musicians dropped deep into a groove, the lasers were let loose, and heavy sleet was falling through the lights like diamonds. It was as if  the jam had summoned the elements. The sleet was coming in sideways and the band was literally battling the elements to keep this thing going. Truly a chaotic and spectacular rain dance moment, it's the stuff Red Rocks legends are made of.
---
6. Help on the Way > Slipknot > Franklin's Tower | Night Three | Red Rocks Amphitheater
Ok so by now it's fucking pouring rain and like kind of snowing and the rain is starting to soak through whatever inadequate outer wear we put on. But forget how we felt standing there in the stands, we didn't have to put on the show of our lives! The 7 guys on stage plowed right through, and for these three songs- arranged in the classic Dead fashion- their various and diverse sounds really came together. Barber lets it rip 2 minutes into Help, from 3:44 into Franklin's Tower is pretty awesome, and of course Franklin's Tower itself brought the crowd and the band together for an awesome wet singalong. These songs really are timeless, and it was pretty fucking cool celebrating them with The Disco Biscuits and friends at Red Rocks Amphitheater.
---
7. A Fifth of Beethoven > Orch Theme > Magellan > I Know You Rider| Night Three | Red Rocks Amphitheater
Do we even have to explain why this segment was awesome? The Fifth, a super rarity, and a great example of the band's uncanny ability to take classical music into outer space, got super funktastic. Listen to everyone come together perfectly at 5:15. Orch Theme was naturally the best choice for a night of braving the elements at Red Rocks. Dark and epic Orch Theme, mixed with lasers on the Rocks, provided a perfect apocalyptic, and classic Biscuits moment. The band had made it through the worst of the storm, with their instruments in tact, and they laid down this space jam like their lives depended on it (listen closely from the 7 minute mark of Fifth to the 3 minute mark of Orch theme). Finally, we got back into our hero's tale with Magellan, which brought us out of the galactic abyss of Orch Theme. The now peaceful, beautiful melody rolled surprisingly seamlessly into I Know You Rider, and all rejoiced once more. It truly was a musical experience only the Disco Biscuits can provide.
---
8. Morph Düsseldorf > Jigsaw Earth | Night Four| Ogden Theatre
In our humble SBL opinion, night 4 of this run was the most satisfying- by this time the Biscuits of Disco had hit their stride in a big way. It makes sense- the band had shared the stage three nights in a row by now, they had clearly been practicing diligently offstage (which does not go unnoticed and is much appreciated), and it was the night after probably one of the highlights of their musical careers- paying homage to the Grateful Dead with original members of the Dead at a historic venue. So break down into funk land with Brownstein the funkmaster at 3:00 of Morph. This song goes all kinds of places before diving unexpectedly into the second half of Jigsaw Earth. See 8:45 – 13:20 for a straight up 5 minute Allen drum solo- I know we all marvel at his machine-like ability to rage at a level 10 for 3 straight hours, but, being the most humble rock star you'll ever meet, the man seriously does not get enough credit. He leads us perfectly into the first half of Jigsaw, a song that evokes much from the early days of Bisco.
---
9. Highwire>Humu>Tempest>Highwire | Night Four | Ogden Theatre
 Somehow, the amazingly happy and uplifting Highwire has only been played 68 times in Biscuits history according to PhantasyTour.com. Listen to Barber hit a home run at 3:44, and Brownie take us back into filthy dance party land at 5:13. The whole band has this awesome conversation from around 8:30 – 10:00 that you definitely wanna listen in on, and then the Humu bassline comes in so gracefully about 5 minutes later. By Tempest, we can't take our eyes off the stage, but we also can't stop dancing so we're like a reverse bobble head- eyes locked, body flailing. Barber murders it again 15 seconds into the Highwire ending, and we get that telltale mix of extreme joy plus mega disappointment that this magic is going to end at some point. You know the feeling, when you just want to live inside a jam forever?
---
10. Shakedown Street Encore | Night Four | Ogden Theatre
This encore wrapped up the whole run, with Tom Hamilton on stage, the crowd pulsing after the best two sets of the run, and the band taking their time to each showcase their musical prowess. Considering that Hamilton has been playing spectacularly with Magner and Brownstein as Electron, it was electric to see him and Barber on stage together. The choice of a non-biscuits song for the final encore of a 4-night run was certainly unexpected for some, but it reminded us the significance of this year in musical history, and the significance of a band who greatly influenced every musician on stage, and whose legacy will outlive everyone in the room. The homage was well placed, and not a soul in the venue could have possibly not enjoyed that encore, so, as far as we could tell, all left highly satisfied.
---
Visit our Facebook for more pictures from Bisco Inferno!
This piece was collaboratively produced  by  Jess Dugan and Christina Sava. Special thanks to Jackie Collins for photographing night one, Drew Granchelli and Craig Gruen for helping to make this piece possible and, of course, The Disco Biscuits: Marc, John, Allen and Aaron for their music and dedication to their fans.

Fatal error: Uncaught Exception: 12: REST API is deprecated for versions v2.1 and higher (12) thrown in /home/content/84/6481784/html/wp-content/plugins/seo-facebook-comments/facebook/base_facebook.php on line 1273