Far, far away, in a cotton storm, elevated 8,530 feet in the sky, Sonic Bloom demanded my presence. For months I had been in communication with Tsunami Publicity regarding Sparkleberry Press and for the first time ever I was sending someone else on my behalf. The wave of this motion left me feeling empty and in between endless emails I anxiously doodled triangles on nearby pieces of paper. I didn't know the significance that would come along with drawing these distractions, but in the moments I found myself connecting a series of three imaginary dots I found peace.
As friends' Facebook statuses announced their Sonic Bloom departures a metal chain tightened around my ankle anchoring me down to San Diego. Still jobless, in my new California home, I rode my bike to the edge of the sea and fell witness to a strange ripple running through the vast Pacific Ocean.  The uncertainty I felt from the stillness that broke in between those distant waves mirrored my inner self. A need to make money struck the flow of my rhythm dramatically and I was not inline with my higher being.
On Thursday, day one of Sonic Bloom, I woke up groggy and sat down in front of my computer screen for a routine email check.  With no response from any pursued careers I considered what I was still doing in San Diego, logged into my Facebook account, and read into a Lost in Sound conversation.  Somewhere within the chattered excitement my main girl Leah, queen of the glitter hearts, mentioned that she would be leaving for Sonic Bloom, from L.A., later that evening. In disbelief, at my first sign, I jumped immediately to my phone and burst out this desperate text message, "Any chance you have an extra spot for me in your car?"  Leah assessed the situation and quickly responded, "So, it may be a bit tight, but we can do it! Come, come, come!"
In the time I was searching for a bus to L.A. a mind-boggling blast shot through me.  After Symbiosis and Lightning in a Bottle I promised my family that I would dedicate all of my efforts to finding a "real career." In their eyes, leaving for another festival would be a huge let down. I feared to disappoint, but I couldn't help but find myself dwindling in the presence that was my now. As the voices of my family echoed in my decision-making I dressed ecstatically for a preplanned yoga class I had promised my sister to before this miracle of a ride came into view. In class, through each breath, I did my best to maintain a meditative practice but excitement with a splash of worry spoiled this space.  Struggling to keep my mind focused on one point, my teacher spoke to me my second sign; "Only you know what's right for you!" With that being said, I packed more confidently in the short hour of time I had just before my Greyhound left.
On the way to my bus stop an unspoken concern crept in the black Toyota Solara my sister, Jean, escorted me in.  As my fingers jittered with nervousness the awkward silence got louder. The minute we arrived to the station Jean exploded her feelings on me.  My sister, stuck in the corporate world, was angry at my freedom and in her opinion my irresponsibility too.  Her emotional outburst stabbed at me and as I stood, with an audience listening, I felt ashamed of my being.  Sweat now accompanied the tightened grip around my one-way ticket and as my mind layered in disheartened thoughts my body boarded a bus.
Three hours later I was in LA and waiting upon my 15- hour ride to Georgetown, Colorado. I had a lot of time to reflect on what had happened, but bottled up with sadness, could not think clearly. When we find ourselves stuck, we turn to our teachers for help and through this darkness Christina Sava and Harry Dinwiddie would hold the light along my path. "Be a witness to one door closing and pay close attention to all of the ones opening," Harry said as I settled into my discomfort.  Christina then messaged me, "Don't try to justify why you went, or regret the fact that you did. Just be present in each and every moment."
With the proper guidance I was able to let go of the emotional strife that I had carried in my heart for 1,035 miles. A door, in my life, had indeed been slammed shut and it was up to me to keep its knob locked. I was scared but as I tossed away this useless key a new world swung its doors wide open and invited me in.
The magic spells of Sonic Bloom were cast the moment Sean, Leah, Christine and I pulled into our satellite parking spot. As we unloaded our jam-packed rental car, full of everything we needed and more, a snowstorm of cotton fell from the heavens above.  To look towards the sky was to be submerged in a familiar snowstorm, only these cold icy flakes were white fluffy cotton ones instead. It was a rare site for the unknown eyes to see and the four of us marveled at such wonder as we planted our belongings at the front of the line for the shuttle bus.  I was suffering from pre-festival anxiety so I broke out my paints and designed a patterned series of triangles on Christine's leg for relief. As I finished this 13-triangle design the shuttle, to our final destination, arrived.
Bracelets on and fellow camp members recruited we were finally roaming through a sea of tents, in a wooded forest, discovering our new home for the cosmic weekend we all had ahead of us.  I'd like to consider my camp "Lost in Sparkles" for it was a collaborative force of raging smiles amongst Lost in Sound members and my determined efforts in the name of Sparkleberry. Ever since I first knew the Lost in Sound family I made it a goal of mine to roll with their party. To know LiS is to know the best rage stick bouncing in the crowd. These kids always come prepared and to be a member of their intimate family is to know that someone always has your back. As I set up my tent I was grateful to recognize sign number three, everything and everyone I needed was just an eye glance away from my perception.
After everything was unpacked my mind was still suffering and coming off of a negative thinking pattern. At times I found my thoughts battling for inner peace and as I embraced this challenge as an opportunity I used the madness of my mind to influence the warrior I painted on my face. Once I was dressed to impress I marched with intention to the festival's gates and met up with a long lost friend of mine, Keith Allen, to claim our press passes. Up until the Universe sucked me into Sonic Bloom Keith and his sister were to represent Sparkleberry but upon my miraculous arrival Keith's sister was happy to pass along her designated access.
Sonic Bloom felt like a small island and was surrounded by the Clear Creek River where a constant stream of water surrounded the festival and always reminded us to follow our individual flows.  As the Aquarian in me followed hers I found myself parading, with Lost in Sparkles, to the Rocky Mountain Hydroponics Dome for a dope performance from Thriftworks. The best part about Sonic Bloom was the actual size of the festival. With only two stages and a not to be forgotten Buddha Lounge it was nearly impossible to miss out on any of the artists that you wanted to see. There was no scrambling to get from one side of the event to the other. Just a quick march, across a majestic bridge, and you were safe in the sound waves of the next artist on your to see list.
To find me on the dance floor was to notice a sequin strawberry punctuating the sky. Red and green glitter marked my territory and my crew held down the front right, of the Bloom (main) Stage, all weekend long.  Karsh Kale, with festival coordinator, Jamie Janover provided the next groove we would grind to, but this performance would not start off on its right foot. Every artist fears a Macintosh's malfunction and the spinning ball of death would greet Janover's computer just before this set. Puzzled looks made up the crowd's faces as the news of the musician's dilemma spread, but in the end it would be a compassionate audience to empower this freak accident's successfully improvised performance.
After Karsh Kale I was indifferent towards Eskmo's set and highly anticipated Brendan Angelides' split musical identity as Welder come Saturday. Once Eskmo was finished I found myself jumping from stage to stage, in between a killer set from Papadosio and a mystic performance produced by Phutureprimitive. In crossfire, between the sound waves of both artists, I was happy that Phutureprimitive's rendition of  "Mad World," by Gary Jules, had hit me.   Later Russ Liquid's trumpet playing brought some diversity to his electronic production and by 2 a.m. you could find me on the Bloom Stage dropping it hotter than its hot for Pantyraid.
Towards the end of Pantyraid I bumped into my first San Diego friend Michael and escorted him to my favorite space, the 12:21 Turquoise Transportal built by Harlan Gruber. If you've been following my writing then you know well enough how magical of a place this architecture has been for me as I've frequently discussed its relevance in my 2012 festival coverage. I had no idea Harlan's work would be at Sonic Bloom and as I pulled Michael's hand through this sacred geometric building Keith presented himself.  "I've been looking for you all night!" I exclaimed with happiness as Keith and I hugged each other tightly. We both laughed at the irony of the situation and soon enough had most of the Transportal oming and doing yoga with us! Sign number four, definitely came along with the appearance of this space, which is formed mathematically amongst a series of triangles.
As darkness faded we meandered towards the Hydroponic Dome to spy on a delightful weirdness that came along with Akara's stage presence. Daylight happened before anyone could blink and as the sun drifted into the sky Random Rab's romanticism with special guest, violinist Ilya Goldberg, dressed a smile on everyone's face Saturday morning.  As friends met friends during this lovely sunrise set I sneaked away and tucked myself into bed, for a three-hour nap, just before Susan Sebanc's Sunshine Yoga flow.
At nighttime the Pond Spot was a Silent Disco but by 9 a.m., every morning, this dance floor turned into an educational environment for speakers and workshops. During my Mandala Solstice Flow, with Susan, I dedicated my practice to love and felt rejuvenated after I said my Namaste, but the moment I looked up to exit the space Keith had stepped into it. An Acro Yoga class was to follow and I was to be a part of it.
My second yoga class of the day was called Freedom Flight and was taught by Yuki and Paul. The human body is a trophy and to work with one another's is a gift.   I have never taken an intimate partner class before and after my first time's experience I was instantly hooked on this practice. Keith and I partnered up for the beginning exercises but as poses intensified the difference in our size would complicate our practice. As flyer and base positions began to be explained I looked to my left and partnered up with a cute woman, my size, named Onamare. Onamare also taught Acro Yoga and a well-rounded participant in the festival world was performing and speaking at this year's Sonic Bloom too. I was super fortunate to find a partner who knew what she was doing and as Onamare flipped upside down above me our blue eyes met and made a powerful connection. After I lifted her back to the ground we talked about the future of consciousness and the ability to connect just through making eye contact.
Acro Yoga left me feeling more open than ever before and I was determined to put in a hard day's work after a long night of celebrating. As a motivated journalist, on a mission to spread the sparkle, I've devoted my festival tours to glittering this culture one sparkle at a time.  Balance, however, was missing from my efforts and as I worked endlessly I forgot the importance that came along with indulging in the experience itself. When I got to Sonic Bloom, however, the interminable work I put towards this project was demonstrated proudly across this festival.  Throughout Sonic Bloom Sparkleberry Lane surfaced everywhere.  I was overwhelmed with joy to see my symbol glowing on the banner of the lovely Third Eye Pinecone crew.  A "Spread the Sparkle" pen appeared hanging from the sign up sheet just outside the Buddha Lounge's door and at one point I found myself sitting on one of my own strawberry stickers. Since Sparkleberry's inception, two years ago, I wasn't the only one talking about my website and as my hard work continuously came into view I realized repeatedly sign number five, the sparkle had spread.
On Saturday evening I was to attend my first press conference ever and to make sure I had the time and place perfect with my schedule I visited the staff/artist/media hideout.  Once I collected the proper information I couldn't help but notice the Healing Booth happening right in front of me. As I fell victim to its energy I questioned what I had to do to get this treatment and, to my surprise, found out that the booth had been installed for everyone working the event. With this news the weight of my camera got lighter and as a member of the media, sign number six would reward me with my turn on the massage table.
An empowered smile marked my reporter's stature as I mingled across the festival to tell Keith about our rewarded efforts. Before I found him I was drawn to a speech given by Jamie Janover, at the Pond Spot, on The Unified Theory of Nassim Haramein & Beyond. As Janover spoke I listened carefully and snapped pictures of the extraordinary cotton blizzard still falling from the sky. My attention span heightened, in the intensity of his speech, as he spoke on the power of communication and the ability to share information and send energy. In a festival snow globe, shook up with knowledge, I left his speech excited to further experiment with the transfer of my energy or the spread of my sparkle.
I located Keith at the Dome where he was just finishing up his second yoga class of the day.  As I excitedly informed him about the Healing Booth he spoke to me, more excited, about an upcoming wedding.  "There's going to be a wedding!" he said and I quickly replied "A wedding! " "Here?" His loving smile said yes as my heart thanked the brilliance of my flow and its ability to arrive, right on time, for the most beautiful ceremony, hosted by Michael Garfield, that I've ever seen.
After the entire audience group hugged the happy couple Keith and I headed to the Healing Booth and signed up for our massages. A brief hour went by before my name was called and Caralyn Ferrier was working powerfully on my body. During my massage Acorn Project played "Stereo," a Boombox cover, from the Bloom stage and beneath the magic of Caralyn's hands I was nothing but relaxed smiles.  Once Keith woke up from the nap he fell asleep to, during his massage, we discussed a meeting point for the press conference later that evening.
I had no idea what was in store for this gathering amongst media members and artists, but I did know one thing, I wanted to look good for it.  I dressed myself with an opportunity to make an impact when I slipped into that little black dress of mine. For some edge I zipped up my black leather combat boots and wore a gold spiked headband. The face paint of my Saturday night said "ready" and once I collected all of my promotional belongings I hit up the festival with my spunk and headed for the meeting.  Naturally, I arrived early and as Keith and I mingled with important faces delicious beverages were served. I couldn't pick between Bailey's with coconut milk or kombucha with vodka, so I just enjoyed both. As the press tent began to fill up with more people a quinoa salad and chips, with salsa, were put out for all to enjoy.  I was nervous and couldn't eat and at this point the only thing that would feed my hunger was information.
When Tsunami Publicity Rep, Ami Heinrich, made her way to our mandatory meeting all eyes were turned towards her.  I was really impressed with Ami and her help from fellow TP rep, Rebecca Venkauskas, for throughout my history of event covering I had never seen a team of representative's work so hard to connect the artists with the media. As a journalist you have to poke around to discover the perfect details.  At Sonic Bloom, however, the audio sound barrier was broken down and communication, in the name of honest journalism, was readily available.
To witness the creative forces amongst artists' collaborative smiles enthused my soul.  Joshua Penman, producer of Akara, dressed in all black and intimidated me, but it would be the white cotton fluff sticking all over him to lift this weight while I watched him turn and shake the hand of Ill-esha. Greenhouse Lounge members literally lounged back in their seats and kept it cool with casual smiles as I nerded my way to the front and demanded a smile, from the still gathering group, on behalf of my Nikon.  Mike Healy drummer for Papadosio and the band's Visual Producer, Jason Takahashi, soon joined the party and as a few more unknown faces filed in; the press conference was to commence.
All media had their right to a question and as fellow members brought up the saturated electronic scene, Keith took notes, and I snapped pictures.  It was brought into view, during this discussion that crappy electronic music is easy to make and anyone can do it.  According to the artists, brought together by this meeting, the future of electronic music lies in melodies and any artist who is willing to put in the hours of intelligence that comes along with this creation has the opportunity to swim in this ocean of genre. I grabbed my notebook from Keith, jotted down some points of view, and then quickly demanded his awareness back to detail. As I went over the question I would ask, religiously, in my head the attention was directed to the performance artists and their ability to translate music through dance. " The music we dance to is studied, we know when the build ups and break downs are coming and we work hard to feel what the musician is trying to convey to the crowd through our expression."
We were nearing the end of the meeting and I got antsy as another member of the media jumped to the next question before mine could arrive. I took a deep breath and patiently waited for my turn.  My area of concern would be raised last and as I got through introducing who I was and what I represented I asked the artists confidently "As a new explorer to the West side of our country's Festival Culture it has been pretty clear to me that the East side scene is missing a conscious element, how are you as an artist, traveling the entire country, going to bring the East up to par with the West?"  A girl sitting below me tapped my leg and gave me a thumb up as I stared into the artists in search of an answer.  Greenhouse Lounge was the first to address my question and they responded easily "You have to live the life you want to represent and be the role model for the scene."  A lot of people talk the talk but not as many walk the walk- Jason Takahashi saw a need for more information written on my face and brought up the East side of the country versus the West side, outside of the festival scene. "The history of the East is much more focused on the American Dream." Jason said as I soon began to realize that the absence of consciousness, on the East side of our country's festival scene, is due to the attitude of the area, the kids in attendance to these events, were brought up in.   A list of corruptive centers of the East, including Wall Street and Washington D.C, were thrown around and the discussion ventured further into the continuous Westward Expansion.
Once the conference came to an end I was still caught up in the explanations of my question when somewhere, in the background of my thinking, a friendly voice asked, "Are you Sparkleberry?"  I turned around at the statement and watched Keith cheerfully direct an enthusiastic, Ami Heinrich, towards my direction and sign number seven introduced itself when Tsunami Publicity wanted to meet me. I was taken back by Ami's compliments and as we began to discuss the details of Sparkleberry's origin a highly anticipated performance from Welder was setting up at the Bloom stage.  A grateful hug sent us both in opposite directions and soon I was back on the festival grounds living as the participant again.
I got as close as I could to Welder without getting in trouble during his early evening set.  I couldn't help but obsessively snap pictures of his perfectly toned arms and the mysterious face hiding behind his Welder's mask. To live behind a camera, in the midst of a mysterious show, can be just as interesting as life without a lens and the magic that was happening on his stage was way too good not to capture. Welder's set fluttered a wave of emotions through my body and during certain segments it was quite possible that you'd catch a tear running from my eye.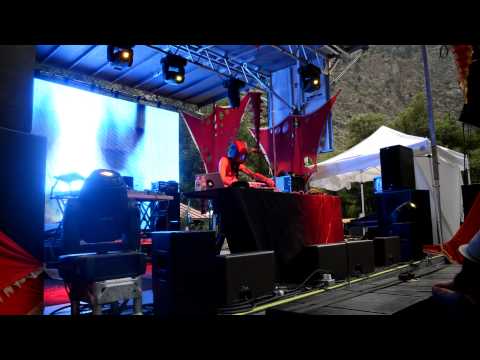 When Welder's music sung away the rest of day's light I conjoined with my Boulder based crew and raged, Colorado's own, Zilla featuring Michael Travis, Aaron Holstein and yet again the every popular, for this festival, Jamie Janover.  Aaron Holstein, also Vibesquad, was celebrating his birthday and before Zilla's set was completely over a special birthday beat box was sung, with the audience, to him. During this celebration Aaron's sons joined him on stage and attendants alongside the band threw out "Happy Birthday" cookies, baked by Vibesquad's wife! I pondered to myself "I got to see a wedding and Vibequad's kids in the same day…awesome," and laughed with love.
Even at night, through lights and lasers, snowflakes of cotton still fell from the sky. I was journaling hard through the beginning of this evening and took some time off to chill with, my girl, Jessica Hunter at her vending booth Teeki; fabulous fashion made from recycled plastic bottles. Jessica and I had deep intellectual conversations about the importance of living out our dreams, the love of a relationship we both sought out, and the futures of our tomorrows. I was blessed to have her, a fellow woman of my kind, encourage me through a time, at this age, where I felt a little trapped. We shared our stories over a bottle of champagne and then I helped her pack up the wonderful clothing that is Teeki.
From the distant Bloom stage, afar from me, I heard Tipper rumbling the ground. I wasn't enthusiastic about his set as I had seen three sets of his in one month already and wasn't too impressed.  An unusual energy lurked within his Bloom sets though and as I was drawn closer to his sounds a different voice of Tipper spoke to me. His vibrations were like skull candy for the brain to suck on and after the time I spent traveling like a robotic alien through his crowd I finally understood his music.
After Tipper blew my mind Lost in Sparkles and I hit up the Buddha Lounge just because we knew we'd have more elbowroom to dance in. When we arrived we got real comfortable grooving in a music world created by Dani Be.  While her adorable presence performed directly in front of me a call from my body requested a vinyasa flow.  Dani's sweet music carried me through a series of postures and as I embraced a side angle pose an unfamiliar hand, from behind, adjusted my posture. The stranger's touch continued to assist me throughout the remainder of my flow and grateful for this hand I sent oxygen directly to my lower back we're a long day of work and dancing exhibited with pain.  Plantrae stepped up to the Buddha Lounge's table next and I was so impressed with his electric viola performance that I took the innovative to help hand out his business cards to everyone present during this set. Being awake at this point took effort and when I made it to Heyoka's performance I was nothing but over it and decided to retire to my tent.
Once Sunday morning's sun told me that sleep time was over I woke up craving the river and discovered that Keith and another favorite person of mine, Nick Doyle, were on that same track. Together the three of us refreshed in the Clear Creek's coldness and even had a Virabhadrasana photo shoot. Artists in force we, decided it would be smart to collaborate our gear and post up a Sparkleberry shop. Keith sold juggling balls, I face painted triangular designs, and Nick attracted in all sorts of energy with his glistening crystals including that of Phadera Jones. Barter was in place of monetary value and soon Nick was collecting extravagant, signed, prints from Phadera's husband Android!  In the moment this exchange took place I had collected my belongings and prepared for some energy work at the Healing Booth not knowing the significance between the artists of this trade.
I never had energy work done before and as I climbed my way up a wooden staircase, to my healers' table, a drip of excitement trickled down my spine.  Above the festival grounds I took off my shoes, took a deep breath, and stepped in the presence of two powerful beings Dylan Elmgreen and Liza Hunter. I had met Dylan and his enchanting aura earlier during the festival and Liza amongst the desert of Symbiosis. When Dylan had offered energy work to me I felt curiously honored and accepted immediately.  To be under their influence was like being hypnotized with love and I felt like I was floating high in between their energies. When the session concluded I felt tiny sitting between the two of them and was open minded to hear their translation of our experience.  Empowerment and self-righteousness had tapped into our session and my heart (love) chakra and throat (communication) chakra were beaming.  The experience was gratifying and gave me the confidence to continue the unknown journey, lead by my heart, I've been traveling on.
Feeling light I drifted along the expedition of my flow and landed my sparkle at Kaminanada for a secret set at the Buddha Lounge.  Everyone I was interested in spending time with, at Sonic Bloom, just so happened to be here and as I drank the glitter in my drink I spent time in Live Painter, Andy Reed's, creation. Nick soon accompanied my presence and when he did, he passed along one of Android Jones' bookmarks on behalf of Phadera's request. I was stunned after I found out who she was and suddenly saw a resemblance of myself in the mysterious eyes that would be holding the pages of my next read.  Futexture launched off at the Buddha Lounge next and before I could experiment any further with David Krantz's future bass, Octopus Nebula recruited me at the Bloom Stage. From this point on the music at the Bloom Stage was fire and the artists performing here held me as their hostage.
After Octopus Nebula, things started to get interestingly weird during Tipper's second set from the weekend.  As he played I danced through his vibrations in a realm of my own world and spoke to people with my vision.  The result of my misplaced schedule left me surprised when the Phadroid performance happened again and as I watched in awe Nick pointed to the gracious woman mirroring my wondrous thoughts and said, "She's the one that gave you the bookmark." I pulled out my gift instantly and drifted into the luminous gaze marked by its design and considered the reoccurrence of eye communication surrounding my trip.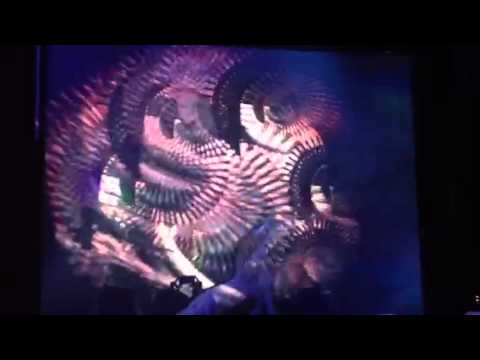 Further along the night Ott kept things spicy and had the whole audience traveling planet earth with his worldly sounds. In the height of the show Leah had discovered a pair of holographic reptile glasses on the ground and soon, throughout our night, her and I would become lizard queens.  Together we traveled back and fourth between the Bloom Stage and the Hydroponics Dome until we finally got real comfortable with the Sonic Bloom Orchestra which was a melting pot of musicians including Michael Travis & Jason Hann (SCI) Tipper, Dave Watts (The Motet), Jamie Janover, Govinda, Sasha Rose, Hopscotch, Lafa Taylor, Kyrian (The Fungineers) and some.
As the final night of Sonic Bloom raged towards its finish line I got real interpretive with my yoga infused dance during another amazing Kaminanda set. The moves of my body were completely manipulated by vibration and as the sun slowly began to peer into our atmosphere my body went to places it had never gone before. My expressions impressed my mind and as I slithered further along a sound wave I found my body in unbelievable measures.  It was as if I ingested the sound itself and it was the sound that now controlled me. From here on out I danced like the reptile queen I had become until the sun shined complete light on day.
A few hours after the music had stopped I woke up next to the river and felt like I had just dreamed up the entire experience. With no sense of time I dipped my feet into the cool water, hugged my nighttime companion goodbye, and ventured to Camp Lost in Sparkles to figure out the next move on my agenda.
When I returned back to camp my bags had already been packed and my tent dissembled for me! I considered what good friends I had and made my way down to the river for one last Sonic Bloom swim. After a refreshing dip I transported my belongings to the top of the festival for the shuttle bus back to our rental car. Before the bus arrived I had enough time to head back to camp and make sure our grounds were left spotless. While I was cleaning around our area I found myself picking up an endless amount of plastic zip ties that were spread out everywhere. As I collected the pollution I began to see each individual tie as an issue I had been suffering with before I arrived to the festival. Every zip tie I removed presented a different realization that I had overcome and was ready to let go of. As I cleaned our grounds I thanked the Universe upon every piece of trash that I picked up and found peace with my internal dramas.  When I finally tossed each particle away I symbolically let go of a previous problem of mine. Throughout this cleansing of our campground and myself I found that I was having an intimate conversation, internally, with our Earth and the Universe.
Upon my festival departure I felt nothing but pure bliss and was ecstatic with the immense growth I had sprouted through at Sonic Bloom.  Sitting on the last phase of my festival goodbye I smiled with gratitude on the shuttle bus and noticed the first aid kit called "Spill-Care-Kit."  As I considered my situation leading up to this festival I thought about how my life felt like it had spilled over. I then thought about how Sonic Bloom took care of me completely and packed together all of the tools I would need to continue following my heart in a personalized kit. As I drifted off into this realization the word SPARK came into view and was assembled perfectly in the way Spill- Care-Kit was presented on this box.  At this point the signs were everywhere but this message, speaking to me through a first aid kit, said it all.  I am the spark to a fire, of a heart, that burns passionately with sparkle spreading desire.
As I got comfortable in the back seat of our fully packed car I turned on my phone and checked my abandoned email. A subscriber to Ocean of Dharma's weekly quotes, I was happy to see their message at the top of my inbox. When I opened my email a note regarding the triangle of birth was waiting for me to read.  The subject line involved my attention to its highest degree as I had been obsessively, almost uncontrollably, designing triangles for months. The brief email stated, "In tantric imagery the triangle represents the gate of birth. First there is a self-exploratory process, constant personal exploration. But beyond that, there is just giving, opening, extending yourself completely to the situation, to what is available around you, being fantastically exposed. That sense of openness can take place when you have faith and when you have developed dignity and a sense that you can actually give birth to another world. Then you are ready to open up."
I couldn't believe my eyes. The triangles I had been sketching for days were foreshadowing my rebirth at Sonic Bloom, the top of my pyramid. The bases of my structure were established throughout my efforts at Symbiosis and Lightning in a Bottle. I had to go to Sonic Bloom to complete this shape, finish my exploratory route, and give birth to the confidence behind the fascination of my destiny.
Sonic Bloom was like a crispy bite, from a ripe apple, that nourishes a hungry man's soul. Never before had I heard the Universe speak so clearly to me and as I translated all of the SIGN language, here at this festival, achieving my dreams felt closer than ever. From my experience at Shadow's Ranch I now see myself as a determined seed, planted with inspiration and constantly watered with love from our Universe.  To be in open communication with our creator is to have power.  The signs are everywhere, are you open enough to read them?

Fatal error: Uncaught Exception: 12: REST API is deprecated for versions v2.1 and higher (12) thrown in /home/content/84/6481784/html/wp-content/plugins/seo-facebook-comments/facebook/base_facebook.php on line 1273