7:53am: I arose in a flurry long before my alarm was set to go off.
"Today is the day!," I thought to myself.  I was Vegas bound and giddy about it;  in just a short amount of time I was going to be in Sin City with my jam fam 1 and dancing at the Brooklyn Bowl to the sweet sounds of one of my favorite bands, the String Cheese Incident. For my last minute packing escape, I threw various valentinesy outfits into my suitcase along with 4 bottles of magical elixirs, a onesie, face paint, cowboy boots, and my sparkly pink scandalous dress.
9:00am: I showered, ate and was off in the cab while running through my checklist one last time
(sparkles, glitter hearts, wallet, cell phone).  I had the essentials!
I texted my roommate, Daria, who was already there to tell her that I was on route.
"Woo Hooo, there is a Pina Colada here waiting for you," She wrote back.
11:30 am:  While in the SF airport, I decided to use my mileage plus club, one-time free trial, to chill out and check out the fancy people's club. I walked up to the desk in my cowboy boots, psychedelic bell bottoms, a tank top and a furry coat and showed them my card. The woman at the desk gave me a glare, but invited me in.
When I walked in the club, I immediately went straight for the coffee, complementary carrot packs (yes carrot packs), cookies, cheese and crackers. Men in suits stared at me while I made my coffee. I couldn't help but wonder if they were thinking "who let this crazy girl into OUR club?" or "damn that girl is FINE!" Maybe a mixture of both?
3:00pm: I had finally arrived in this crazy freaking city they call VEGAS and the slot machines warmly greeted me as soon as I debarked.
As Hunter S. Thomson once said, "in Vegas reality itself is just twisted." In my opinion, Vegas is the land of the doomed, where sweat, filth, sin and music come to meet and combine in a fiery heat of hedonism. The damned energy there. THE ENERGY!!  It made me feel alive!
4:00pm: I found my friends at a restaurant across from the Flamingo. The gold sequins and bubbles flowing (literally bubbles, not just champagne) as well a bunch of  hot mamas2 were a dead giveaway. I walked up to their table and was welcomed by big hugs and smiles; I felt so happy that I could explode.
Words cannot describe the way I feel about my String Cheese family, who, from all around the globe, travel to the different cities and unite together in the name of heavenly jams. When you are weird and crazy, it is fun to find people just as weird and crazy as you to go do weird, crazy things with you.
I knew this Vegas adventure was about to be full of lots of those weird, crazy activities.
5:30pm:  I finally made it to my hotel room at the Flamingo.  My roommates for the weekend, who are in my humble opinion some of  the coolest cats around, included Ann, Amber, and Whitney. We changed outfits and reconvened with the rest of the crew in Brandon's room.
Brandon Burnett, aka THE KING, is the most sparkly, wonderful big hearted person you will ever meet. He is full of rainbows and smiles and he is always the MVP. This time, Brandon, showed up as Elvis! He was, truly, the King3!
Brandon's room was looking hella fly.  He had switched all of the normal light bulbs in the room with color changing lights. The music was thumping and I was glad to reconnect with my LA and Colorado tribe.
6:30pm: It was showtime. Our hotel was conveniently located next door to the venue. So we danced our way through the hotel lobby over to the Brooklyn Bowl, which is a great bowling alley venue with a New York origin that recently expanded into London and Vegas.
7:30pm: Once inside the venue, I was amused by decadent costumes and familiar faces.  I scurried around hugging as many people as I could before the show started.
Out of all the music groups I know, String Cheese fans are by far the best. Almost everyone knows everyone and those you don't know are still part of the larger family and open hearted for one to get to know! Everyone is so kind, happy and grateful to be there. The fans always dress to impress and ordain themselves with lots of tie dye, jellyfish themes and bright colors.
8:45pm: After I grabbed a drink, I positioned myself to the front of the crowd with Jon Eisberg for my first fifteen min of front up close time. 4
Jon, who run's Blackspy Marketing, gave me a big squeeze. I had not seen Jon since the SCI Oakland show.
"Happy Winter Carnival!" he said as as he handed me a Black Spy Crew Lamenated pass and an All Access Pass. Jon's generous gesture allowed me view the show from the balcony and from the bowling alley.
Finally, my boys, Kyle, Keith, Jason, Travis, Kang and Billy walked on stage.
They are the six best friends that anybody could have. They grabbed their instruments and the magic began.
The band opened the show with "Close your Eyes." The music swirled and mixed with sweet melodies and harmonies interwoven with smiles and cheer. The multi colored lights twirled and moved me in indescribable ways.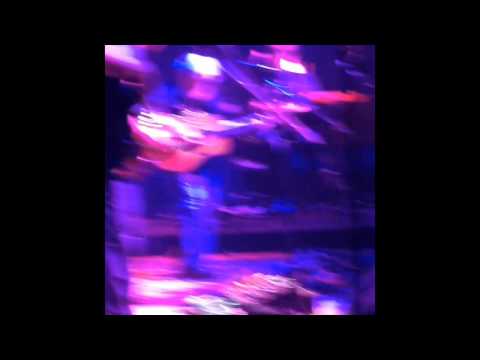 TIME DOESN'T EXIST: I ran upstairs to see the show from a different angle. The band began to play Talking Heads', "This Must be the Place (Naive Melody)." Through the glowing lights and mist, I saw Kyle Hollingsworth smiling and moving his hands on the piano as fast as a bat out of hell.
Jason Hann was switching between playing a washboard, a shaker, and still keeping the beat with his congos.  Of course, Billy Nershi (who is literally the cutest man in the world), was barefoot and dancing and strumming along his acoustic guitar. Keith Moseley was just slappin da bass.  Michael Kang, while strumming on the mandolin, was singing in perfect harmony with Billy. The music lifted me up and I took flight and at that moment, time stopped and I was transformed.
There is said to be a moment at every Cheese show when the music actually stabs your soul. It is the same moment when newbies become die hard fans.
The music played on…
Set two was even more epic. "Miss Brown's Teahouse" jam got super funky and Cheese weaved from Miss Browns to "Chameleon" back to Miss Browns.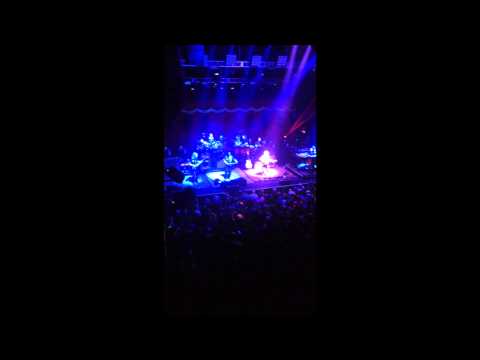 When set two ended, nobody was ready for the music to stop. Encore. Encore.
The boys walked back on stage and played, "Shakin' the Tree" for their final song. Everyone's heart just melted; the man next to me was smiling so hard that I thought he might cry.
2:00am: Time for the after party! Me and my roomies danced our way between several different hotel rooms in the Flamingo and kept on partying. Until I passed out from exhaustion…
6:00am: I woke up in Tara's hotel bed with six people playing Cards Against Humanity around me. "You passed out there," Matt said as he handed me some cards.
While still in my bootylicious onesie from the previous night, I played a few rounds with them before heading back to my own room.
Saturday February 14th – Valentines day
9:00am – 5:00pm: Ahh the day of love!  Ann, Amber and I woke up and began causing a ruckus. Poor Whitney was violently awakened by the pop of the champagne bottle. Mimosas anyone?
After jumping on the bed and rocking out to Nelly, we eventually strut our stuff over to the Bluegrass breakfast, where we found the other half of our team.
Rolling deep, with a crew of over 20, we gorged on the  breakfast of champions. The beautiful sounds of the Brothers Comatose, a 5-piece bluegrass band based in SF, kept us from really going comatose after eating too many Jellyfish Pizzas.
The rest of the day was spent between mimosas, food, and more bluegrass.
5:00pm: It was time to prep for round two.  The girls and I put on our best pink and red outfits and begin the night by popping a bottle of Brilliant Elixir Lustre, which was handmade by my friends in SF. I brought three bottles of Lustre, which is a stimulating dance aphrodisiac, to Vegas. The smooth chocolaty drink was a great way to start the evening.
6:30pm: On route to the Brooklyn Bowl, Ashleigh handed us bubble rings and another friendly Cheese Head handed me a heart headband. I was stoked.
7:00pm: String Cheese opens night two  with "Shine" and I can't help but sing along:
"Come on, let your love come around.
Come on, let your heart shine bright.
Go on, and sing out loud.
Go on, be strong,
Let your love light shine."
Everyone's love light was shining bright. Heart stickers and smiley face stickers5 were being passed around and booties were shaking as the music played on.
Set two began with guest DJ Logic and they opened the set with "Let's Go Outside."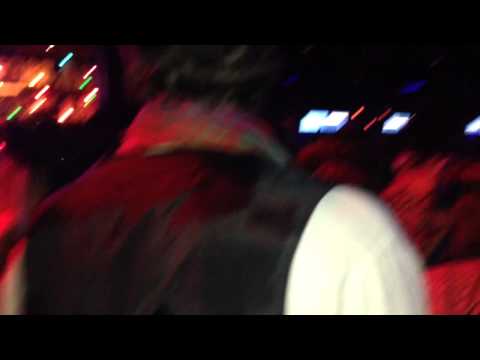 Cheese is known for calling up guests to Jam with them during the second set. However,  besides the occasional EOTO solo, I have never seen Cheese invite an electronic producer to guest with them before. The mash up of the traditional bluegrassy jam with the additional electronic sounds added a very unique element to the show.  DJ Logic is a very talented producer and while he spun, it added a touch of old school 90's feel that I was loving.
I am always in awe while watching Cheese. They are all such freaking talented artists that go up on stage and just jam with each other, but they are also really able to LISTEN to each other. Each band member compliments each other as they jam along.
Just imaging how wonderful the world would be if we all listened, I mean really listened, to each other.
It was fun watching them Jam with Logic.  Luckily I caught some on video.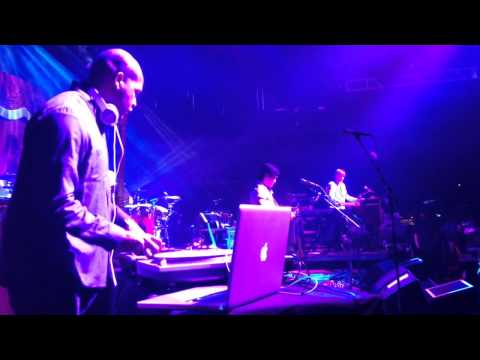 For the Encore, Billy told us a funny story about a time he had been high in Vegas. He said that the experience had inspired him to write the song. The boys transitioned from "Las Vegas" to the classic song "It's not unusual" back to "Las Vegas." It was quite a lovable night.
2:00am:  Lucky Lotus was playing a killer set after the SCI show. Some of my friends and I had rented a bowling lane for the show. Perfectly positioned in lane number 5, we continued to groove gratefully to the philadhelphia funk jam band.
Because the weekend was also a birthday celebration for for Ann, Taylor, Daria and Annie's birthdays, we decorated the lanes with balloons, candy and a sweet sign that described our town.
Alfredo showed off the birthday flag for Ann, Taylor, Daria and Annie's birthdays.  WELCOME TO SLUTSVILLE USA!" 🙂
3:00am: The night ended with copious amounts of chicken wings and beer..
3:30am: We met up with Jason Hann and were all ready to hit the strip clubs. But Jason had another night of performing ahead of him and had to go to bed.
Next thing I knew, the sun was already rising. Good Morning Vegas.
5:30am: En route to my bed, I find the die hards on the gambling floor.
6:00am: When I make it back to my room, it takes me less than 5 minute to pass out.
Sunday Feb 15th:
11:00am: I wake up knowing that the wonder of the cheesy weekend is almost over. Due to work, I had to leave early.
I packed my bags and went to grab lunch with some more hommies.
In the elevator, I was happy to see the people were spreading the love.
4:00pm: I boarded the airplane full of enough love and joy to last me until the next show.
I felt so blessed and grateful for the String Cheese Incident and my Jam Fam for always making me smile and laugh. Thank you all for spreading the sparkle.
 Luckily, what happens in Vegas, ends up on www.Sparkleberrylane.com.
1. Jam Fam: You're other family that you have the pleasure of seeing at every good jam band show.  The love of the music is what brought you together and will continue to bring you together for years to come.Within this family you'll find some of your closest friends . These friends know you at your finest and also at your sloppiest, either way they love you just the same.
2.  Hot Mamas: these are not really mamas you silly fool. They are just hot ladies that have great booties and know how to shake what their mama gave them. DUH.
3.  Brandon was The Official King of Electric Forest Festival in 2012.
4. First Fifteen min of Front up Close Time- The first 15 minutes of the show; you are right in the front watching all the action.
5. Smiley face stickers- This is now a tradition to honor the life of Ted Wells 🙂

Fatal error: Uncaught Exception: 12: REST API is deprecated for versions v2.1 and higher (12) thrown in /home/content/84/6481784/html/wp-content/plugins/seo-facebook-comments/facebook/base_facebook.php on line 1273