It takes a special group of musicians to successfully cover an album like Radiohead's Kid A. Before attempting to transcend this music one must understand its ethereal and dark qualities.   In an ongoing collaboration, produced by Undercover Presents, 10 of the Bay's most talented bands came together to celebrate the album with the respect it deserves. Each act performed one song off of the album with their own colorful flavor added.
For three sold out nights UCP lined Radiohead fans out the door and around the corner of San Francisco's Rickshaw Stop.  I found my way through the venue's red dim lit doorway on night two. Upon entering there was no time to feel for my absence from Everything in it's Right Place for my focus was fixated on Gamelan X's Indonesian bells.
Magnificence bleeds from the eyes of a person who has just witnessed Thom Yorke live. I've seen this look, many of times, expressed on the faces of my closest friends. The same fierce brilliance also sparkled in the eyes of David 'Darko' Peterson as he performed vocals for his band's rendition of the album's self titled track Kid A.  Paralyzed in a trance, audience members stood and absorbed rather then danced with exoticism.
Each artist had the opportunity to preview their performance with a prerecorded statement.  This element, along with UCP's changing art director added an authentic touch to the night. Elizabeth Setzer, chosen director for this event, spoke live before her rendition of How to Disappear Completely. Well-known flamenco dancer La Tania accompanied Elizabeth's act, helping to make their collaboration one of the most unique performances from the night.
When Latin hip hop fusion group,  Bang Data, started tuning in their guitars I knew we were all in for something really special. The band's rendition of, Optimistic, seemed to  have been  channeled  from a still together, Rage Against the Machine, Bulls on Parade, circa 1996.  Lead vocalist, Deuce Eclipse, sewed together the diverse Radiohead/Bang Data collaboration with lyrics of his own creative freestyle. The band eventually went on to double the length of the song's original with its own kind of machine funk.
Eeriness ensued throughout the evening- as does on the album- until arriving at Idioteque. Singer/beat boxer Kid Beyond, featuring ghostNOTES and the Classical Revolution, a make up of three cellos, a viola, and one violin took us, in their own words, down the Idioteque  rabbit hole.   The song's familiar whiplash noise was brought to life by Beyond's looped beats. At first sound technicalities interrupted the group, but once Classical Revolution joined, all was harmonizing.  Violinist Matt Szemala hung left of the stage until the last two minutes of the song. When he surprised the audience with his appearance he absolutely destroyed it. (Yes, I mean that in a good way! Please see video below)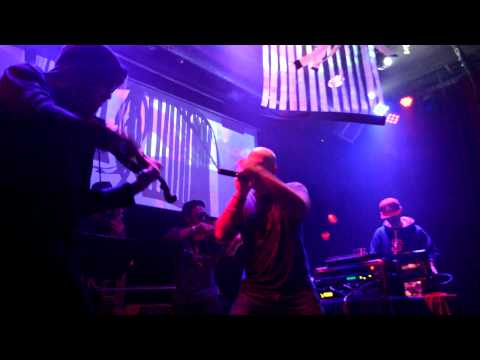 Throughout the show musicians worked efficiently with UCP's crewmembers to ensure the quick set up of instruments. Bells Atlas would be the last to breakdown for the evening, after their cover of Motion Picture Soundtrack.   Just moments before the band hopped on stage I noticed them sparkling out of the corner of my eye.  Literally, the band was covered in glitter! It was a magical moment for a Sparkleberry, and in no time I was interviewing them about their performance rituals!
When the intimate night came to an end I felt as privileged as each of the musicians probably felt when they were first asked to participate. If you know Radiohead, then you are familiar with the group's bizarre beauty and rare form. For a musician to be the dark and the light happens only every so often. For 10 acts to mimic it as well as this group did happens almost never.
The success of this event comes from Undercover Present's ability to hypothesize an eclectic line up for what they believe a tribute show truly deserves.  Past tributes include the Velvet Underground & Nico, Pixies Doolittle, Jonie Mitchell's Blue, and Black Sabbath's Paranoid.
Check out the complete covered album here!
Upcoming Tribute: Bob Dylan Highway 61 Revisited
My album request: Modest Mouse, Lonesome Crowded West

Fatal error: Uncaught Exception: 12: REST API is deprecated for versions v2.1 and higher (12) thrown in /home/content/84/6481784/html/wp-content/plugins/seo-facebook-comments/facebook/base_facebook.php on line 1273