Experiencing the music of Dave Tipper is best described as an exercise in mindfulness. It's the attempt to continuously and steadily balance the sometimes overwhelming cascade of multi-sensory stimulation. It's the challenge of giving one's full attention to the movement of sound as it dances across a stereophonic playground. It's the total surrender to the chatter of the mind and its eventual return to the present moment; the ritualization of finding a "sweet spot".  Experiencing Tipper's music is trying to pick up on the nuance of his endless almanac of composed beats and rhythms that I think I've heard before, but not like that, no, this is different. This is here, and this is now. Well, actually, this was weeks ago inside the Hult Center's Soreng Theater in Eugene, OR but I digress…
As I entered the Soreng for my first time, I was surprised by how intimate a 500-seat theater could feel. The set-up of the stage further intensified this feeling.  On each side, huge vases overflowed with red and pink roses, accented by a tier of frosted glass candles against a black backdrop. In the center, a projection of IMAX proportions, and off to the side (on the periphery, as per usual) a musical palette of turntables, laptops, and mixers. It felt almost romantic and while the seats surrounding our composer's workspace filled, I settled into my anticipation.
This show, produced by Beloved Presents, went unprompted and had no problem selling out. Within minutes, the theater filled to capacity. The lights began to dim, and so began the auditory and visionary journey. Live projection mapping by Jonathan Singer shocked my eyeballs into a multiverse of dimensions, the peeling away of subatomic strata, fractalized butterfly wings and velvet lined wormholes. John's work featured the feminine inspired artwork of Sam Flores, and Chris Dyer's "Peeling Bodies". Sometimes the visuals were so extreme, such as a psychedelic fractalization of a melting Homer Simpson (homage to Eugene's neighboring Springfield), that it felt like work to focus on the vibration of my eardrums.
Tipper's presence commands attention, the kind that makes the distinction between hearing and listening, and the Hult Center was an ideal space for it. Out of all the venues that could have debuted Tipper's only West Coast performance of the repertoire shared at Alex Grey's Chapel of Sacred Mirrors this last winter, the Hult Center in Eugene, Oregon was it and chosen for a reason. A venue that typically hosts symphonies and orchestral music, the choice of venue indicates an attempt to elevate the genre of electronic music to high art.
How many conversations have I heard shouted over music, how many smartphone screens have I peered through as though they were live feeds? This was a command for high quality listening, and I felt as though everyone was there, attentive, if only to rest their head on the person next to them, or, if you were the guy sitting next to me, calmly munch on a bag of psilocybin as though it were buttered popcorn.
The CoSM and Hult performances were not identical, and only shared the quality of being primarily ambient and downtempo. The soundscapes created were crisp, clean, chill as cucumbers, and gave me the feeling that I was being enveloped by the entire spectrum of sounds. The tickle of a snare danced between the speakers. My innermost crevices felt like they were being mapped out by hi-fi echolocation; searching out my beating heart and sending it into a writhing orgasm. There were elements pulled from several released albums, including Surrounded, Forward Escape, and Broken Soul Jamboree.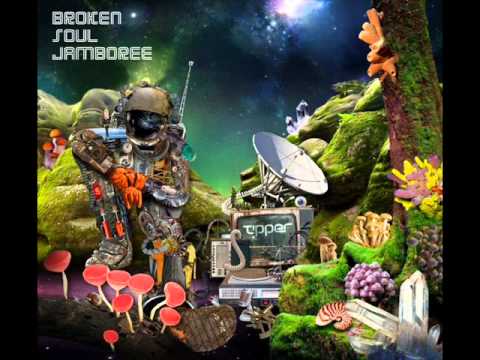 The track Dead Soon, from the 2010 release Broken Soul Jamboree, felt like a stroll through a South American jungle where water droplets fall on harp strings and macaws sing in the distance, as well as another equally hypnotizing track titled Cinder Cone. During moments of intensity when the beat accelerated to a rhythmically driven pulse and a collective head-bob emerged, the audience began to woo, cheer, yeah, and as if to tease us, Tipper would subdue the escalation. Of the hour and a half performance, by the last twenty minutes there was a palpable yearning for more, deeper bass and danceable beats, but it was a futile pursuit. The intention was to sit, listen, feel, and sudden outbursts of excitement were not encouraged. I admittedly started to feel a little like Kevin Bacon in Footloose.
You can probably tell by now that this isn't a conventional music review. Even a full fledged electronic review site was left speechless in the wake of Tipper's latest EP release, Fathoms. In a review of the Red Rocks show, the word "genius" was heavily used, and it is far from hyperbole. He really is a genius. He is an enigmatic composer who demands the concentration to listen and become absorbed by sound. No two performances are alike; each show uniquely nuanced for his sake and ours. If you have any level of appreciation for the art, evolution, and future of electronically produced music, Tipper will leave you with your mouth agape. Catch him this summer at Cascadia, Shambhala, or Symbiosis.
This article was written by Ali Casanova >>
Shoot us a message on our contact form if you've got something you'd like to share with our community. 

Fatal error: Uncaught Exception: 12: REST API is deprecated for versions v2.1 and higher (12) thrown in /home/content/84/6481784/html/wp-content/plugins/seo-facebook-comments/facebook/base_facebook.php on line 1273