At a time when EDM seems to be dominating a huge chunk of stereo time on the airwaves and on our iPods emerges , the not to be missed, Indie Rock band, Rubblebucket(RB). RB is an eight-piece ensemble, from Vermont, that consists of seven men and one hell of a woman, AnnaKalmia Traver.  Now, please don't be misled by my instant promotion of her, for everyone in the band is impressively talented; I just fell in love with lead singer, Kal, the second she picked up her baritone saxophone and stepped up to the mic.
I stumbled upon RB a week ago at the Pour House in Charleston, SC, when I went to catch SBL's good friends, Cherub, perform as the opening act. Cherub is funky fresh, and both Jason Huber and Jordan Kelley are super enthusiastic musicians on stage. Certainly everyone loves a cute dude duo that can produce a dance party for their company and Cherub did just that with bomb tracks like "Doses and Mimosas."
RB took to a stage that had been appropriately decorated with neon fabrics a little after eleven and they had me focused on their style with the strum of the first chord.  As they played, my mind was exploding with ideas I wanted to share with all of our readers here at Sparkleberrylane.com, so I did what Josh Coyle would do: I started taking notes and wrote with honest truth. "I haven't been this excited about music since I realized I liked the Disco Biscuits in 2010."
The elements that make up RB's organically fresh sound include, but are not limited to, trombone, clarinet, keys, flute and euphonium.  Each song that was played throughout the night was radically empowering and had a certain breath of life to it.  After indulging in the new sound itself, 
I spent a lot of time studying Kal and her whimsical performance.  Her voice radiates with girl power and  throughout the night I stood in awe  admiring her as she spun around on energetically on stage losing herself in the beauty of her own voice and the band's music.  Her individuality could easily produce a tear in any music lover's eye and at the same time have every woman, present for her performance, questioning their sexuality.
Another thing I loved about RB's performance, was their ability to involve the entire audience throughout the show. Band leader, Alex Toth, initiated a clapping beat from his fans while Kal shared her mic with all who were willing to echo her voice.  During the beginning of the second set two audience members slipped into robot costumes, provided by RB, and paraded around the Pour House mechanically dancing to a juicy melody of delicous sound waves. As the show continued to excite my ears, I was overwhelmed by a feeling of gratitude for having come into contact with such talented artists.  As a music enthusiast, I explore all levels of genres, but generally find consistent comfort in a select few, while innocently ignoring others. RB helped me remember how amazing indie rock can be, and since I obtained their latest CD "Omega La La," it has not stopped playing in my car, on my computer, or through my headphones.
By the end of the night I patiently awaited the opportunity to introduce myself to some of the members and thanked, Alex,  bassist, Jordan Brooks, and my obvious favorite, Kal, for giving me the gift of a much needed wake up call, which was stepping outside of my comfort zone again.  Those I spoke with were soft, yet intriguing spirits,  pursuing what I believe is exactly what they were put on this earth to do. If Rublebucketisim were a religion I'd seriously consider converting because these indie rockers rave.
Have an awesome look and listen: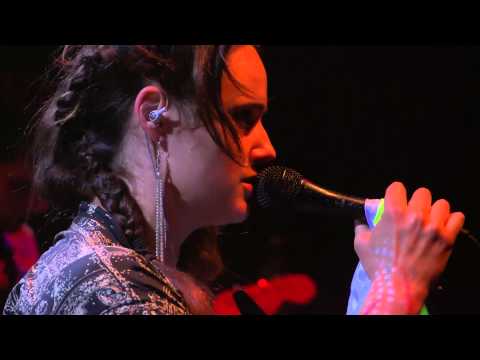 and don't forget to like Rubblebucket

Fatal error: Uncaught Exception: 12: REST API is deprecated for versions v2.1 and higher (12) thrown in /home/content/84/6481784/html/wp-content/plugins/seo-facebook-comments/facebook/base_facebook.php on line 1273