Check out the hyperlinks for complete set lists! 
It all started when Prints Charming stimulated my inbox with a surprise text on Thursday:  "Are you in the Bay?"  He said.  "Phuck yeah," I thought then quickly replied, "Yes, and I'd love to see you!" Two texts later I was making dinner for this Twarriour (tour-warrior) and laughing at his stouries. Ah, phresh tales from the Canada border patrol…Toronto must have been great!
My last Phish show happened in Charleston, 2010. I went both nights and I'm sorry phans, but that shit left me bored. For three years I had next to no interest in seeing the band and could care less about the rising demand of their soundboards. Trey and pham got my second chance, because Phish brings phrends together.
On Friday I enlisted myself on couch tour1 and prepared for what I was about to get into. Harry Hood was on point and to share the experience virtually with Facebook phrends was BadASS, however, I did miss those rage sticks.
Competition was fierce when I arrived at the Bill Graham Auditorium on Saturday. Fingers struck the air from every angle and tickets were being sold on a sliding scale between $75 and $160 dollars. "Damn" I thought, "At least I don't care that much if I don't get into the show."
I soon realized that these lucky extra-ticket holders could pick and choose who they wanted to miracle2  at that point. I then wondered what it would take for me, profiled just minutes ago as an STS9 kid, to get a ticket.  Before I gave up, a phrendly phace approached me and said, "You look like you need a ticket." I nodded with a smile and he replied "For face.3" Badda-bing, badda-boom, that was easy and thanks Chris Pezza.
Once in, I was still feeling apprehensive when I ate mushrooms and considered the show a place for study. This is GonzoBerry4 after all.
Uncertainty surrounded first set and as I made my way across the floor I wrote this in my notes, "To understand Phish, I have to adventure through the pit while thinking how someone who doesn't understand a Biscuits laser show feels." That thought would soon become the key to unlock the door to my new phound Phish phreedom.
All sorts of thoughts flowed through my mind during first set and I was dumbfounded when I called Jesus Left Chicago- holler at Bridget O'brien for educating me on that one.  As the soulful riffs from the ZZ Top original tickled my soul, I examined my mental self internally.  In deep thought my mind twisted back and fourth through several dilemmas before I realized, ironically, that I had not been writing enough.  Deeper and deeper I traveled through theory behind absence before bursting through my writer's block in Possom.
After first set, I made my way to the high risers and regrouped with my home girl, Kristen Portney. Together we discussed our experience through first set and the magic mushrooms that had spun our heads around. We laughed hysterically at our shared thoughts. "I'm not alone!" Kristen proclaimed as we hugged in one another's amusement.
Once we chilled out and got comfortable in our auditorium chairs I got to my epiphany with Kristen. "Dude, I'm not writing enough," I said. "Me either" she replied. We then promised each other we would write more. To make our business most official we wrote out a contract on a dollar bill y'all! My name became the first signature. Kristen's then followed before Emma Lorraine's became witness.
It was raining glowsticks when we determined our first commitment under contract would be a review from the Phish show happening then. GLOWSTICKS- everybody hates them because they're not eco friendly and can't be recycled, but we all love the asshole that bought them. What's a show without play lights anyways?
Without further ado, here's Kristen Portney on second set.
Second set happened when the lights dimmed and the crowd fucking roared. With Strawberry Jess to my right and my beloved JD to my left I was ready to be swept into the psychedelic hole that is Phish in celebration of my third show. Yup, phrends I'm a newbie too!
Like Jess, my head was in space during Jesus Left Chicago and I'm grateful our worlds could collide for round two, which opened with Rock and Roll. Mike, Trey, Jon and Page now drove our trip and the experience was out of our heads and into our dance moves. With a painted face I looked to my dark curly-haired lover and grinned at the PH-ucking joy in his body, splashing me with sweat, as he expressed absolute gratitude towards his favorite band. "Give me a high-five, JD!" Jess expressed in front of my smile,  "You're having such a great time, that's awesome!" Epic, I thought as we grooved on into Backwards Down the Number line.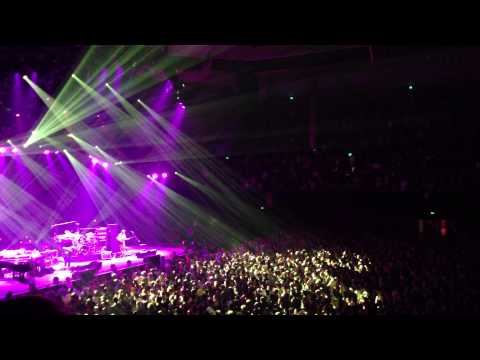 Soon Joy vibrated the venue and the audience got a little closer while everyone sang together beautifully,  "We want you to be happy, don't live inside the gloom!"
The encore for the night was Suzy Greenberg, which left fans satisfied yet thirsty for more. Once it was over, I heard phans to my left and right declaring that this was Rock and Roll History- or maybe that was just JD.
When the night was over I couldn't promise a rendezvous at the Boom Boom Room or Conspirator because, phuck, I was in love all over again and I felt as if nothing could top what I had just paid witness to.
On our way home, JD and I be-friended phish fans on the BART before making the B-line to our crib. Once we arrived we woke up our good phrend, fellow Phish fan, and roommate, without hesitations, to brag about Fluffhead and Waste. The energy from the show was still flowing through us. "Shit, should we be at Conspirator??" We asked each other.  There was no turning back now so we did what anyone would do- applied clay facemasks, made herbal tea, and gushed over a night well spent. 
For Conspirator details, I'll pass the rage stick back to Dugan.
Conspirator almost didn't happen for me either, but in a Biscuits drought, I did what any fan experiencing withdrawal would do- raged the fucking shit out of that show.  Truthfully, the idea of Brownie banter is what really won me over and I'm glad I went because special guest, Mike Greenfield of Lotus, was phresh off a plane from Japan and drummed the set.
I didn't think the night would end until Brownie got my hug, but PrintsCharmring assured me I could give him one the next day at a never-to-be-missed, Sunday show. In #NickDoyle we trust, so back to Oakland it was for my Phish tour lover and me.
When I awoke the following morning I immediately got to the computer and spit out a few solid sentences. Phish broke through the wall of bricks that was my writer's block, yet I debated going back for more.  As a newly converted phan, I was afraid of jeopardizing my recent phound glory! Anxiety also tapped lightly on my inspiration to write again.  Would my resurrected written voice die if the Sunday show were a Charleston repeat? My perspective changed right before I came, literally.
Someone once told me, "If you make a wish on an orgasm it will come true."  Say what!? Yeah, magic or something like it… anyways, I was well on my way to a phabulous climax when I started thinking about one of my phavorite Phish songs, respect to Fukouka, 2000, Carini.
It was a juicy place inside my head when the thought of that song elevated my experience. Carini, Carini, Carini!  Phuck, I must have said the title 30 times before blasting off like the sped up version of a blooming flower on a Planet Earth episode. Ahhhhhh!! Phish romance rules.
 After the glitter exploded I looked towards Prints Charming and filled him in on the orgasm manifestation. Probably the best shit he's ever heard.  He responded, "I don't know, you're playing with fire, they just played that in Tahoe."  Instantly, from that point on, I was in for the show. After all, I cast a spell on that jam and I wanted to test my powers out.
One Bart ride, a caramel frappuccino, and a bottle of champagne later we were back at Bill Graham and committed to another night of phun. The Phish lot scene wasn't a parking lot, rather a large grassy square full of vendors and uninhibited, very schwilly, Phish phans.  "Back home," I thought, as I mingled with veteran phans and expressed my concerns as a newly converted one. To ground this uncertainty I bought a glitter Biscuits pin and placed it on my camel back for good luck.
My face paint for the evening was elegant and in line for the show- I got mad requests for color. Long line, no problem, I had plenty of canvases to hold me over throughout the wait. By the time I passed through security I had a new pham to Phish set one with. The night was off to a gooey start with Divided Sky into, an audience bellowing, Wilson da nuh-da nuh Wilson!  I grooved and continued to design faces through Haley's Comet before things got mega groovy during Gumbo.
 I was surprised when set one ended as quickly as it did. "Oh, no, the shows almost over!" I said. "Shhh, you're not supposed to say that!" A fellow phace painted phrend responded. "Shit I gotta find my other pham and close this party out right!"  With that thought my next text went to Prints Charming.
Once I regrouped with the Boulder clan all sorts of magic began to manifest starting with that hug to Marc Brownstein!  "Marc!" I looked deep into his eyes and said, "I miss you so much!" Then gave him the sweetest Sparkleberry hug known to man.Although it had been thousands of lasers since my last Biscuits show, I felt whole knowing that I could high five Brownie, whenever I wanted, through all of second set which opened appropriately with Energy.
Runaway Jim would be the prelude to my supremacy. To be honest I had forgotten about my fantasy wish.  I mean, no, I held true to the probability, I was just captivated in the presence of the moment with no need to think before it happened- the lights went dark, the guitars shred their notes, and Carini rumbled through the phucking speakers. It was as if the orgasm was happening all over again.
"Nick Doyle, I have the phucking power."   I said as my hands spread their fingers wide and I looked to the sky.  We both giggled in one another's embrace, then got the fuck down.
David Bowie soon came along with a Silent in the Morning between Meatstick. I remembered a rumored importance of Meatstick from the NYE countdown at Madison Square Garden in 2010 and felt I got another very significant track. Bright eyed and smiles wide, Quinn the Eskmo picked up reminding me of some Charleston shenanigans from way back when. "Shit moves in full circles," I thought as YEM took me to cloud 9 and I said what anyone would say given the circumstances, "I fucking love Phish!"
The encores didn't matter much to me. For what I unknowingly sought after for the past three years were those last 35 minutes.  Zig -ah zig -ah! I let my locks down, fingered my hair, and felt open, vibrant and gratefully free.
Speical thanks to Eliza (maybe)- I was broke and short two dollars (I couldn't spend the contract!) first night during second set when homegirl came and saved the day. Problem solved, almost. The cheep beer was out and I had to go for the ten dolla. "Ummmm, I hate to even ask, but…" I said. "Girl, don't even stress you are getting your beer tonight." Eliza replied in the friendliest voice. "Here's a twenty," she said, "and keep the change, you might need a cab home later!" Phish phrends are phamily.
And another thanks to Ellie Fleischer for capturing the phace paint pic!
Couch-tour-  Live webcast from the show creates a tour for participants unable to make the events.
Miracle- A miracle is like it sounds, a free ticket. In this particular scenario any ticket at all is a miracle.
Face- obtaining a ticket for list price.
GonzoBerry-. Writing with a message to the readers. Essentially, it's Gonzo Journalism with a sparkle twist.  The writing succeeds if we can communicate our lives in a way that will empower yours.
As always, Sparkleberry Lane wants you to be happy!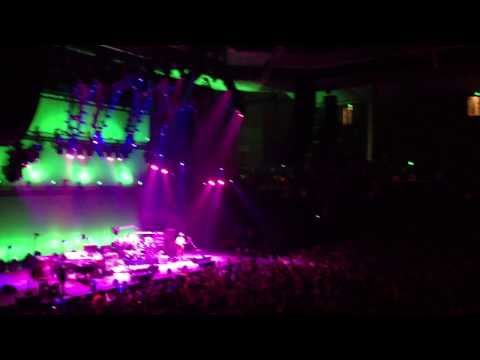 Fatal error: Uncaught Exception: 12: REST API is deprecated for versions v2.1 and higher (12) thrown in /home/content/84/6481784/html/wp-content/plugins/seo-facebook-comments/facebook/base_facebook.php on line 1273