Yet another festival season is upon us, and if you're like us here at SBL, you probably can't wait to see some of your favorite artists- you love them so much, you've seen them more than twice or thrice before.  But if you are like us, then amidst that excitement also lies a yearning to discover something DIFFERENT and new, something that floors you, something that moves you, something that gets you excited to go home and download everything of theirs available online and to tell all of your friends about it.  SparkleberryLane thinks that Michael Garfield could do that for us this summer, and we can help him get on the stages of Summercamp, Wakarusa, Sonic Bloom, and Electric Forest Festival!  We've watched Michael G. create beauty for our eyes for years as a live-painter at some of the best fests, and if his live performances are anywhere near as beautiful as the images he creates, SIGN US UP.  Actually, we've already signed up, that's why we are reaching out to the Sparkleberry community to help give this much deserving artist his spot on the lineups.  Michael is in TheUntz.com's Untz Challenge III, and with the most votes he will be at all of the above mentioned festivals.
Check out what he has to say about himself- and then go be a good citizen and VOTE!
**The Untz Challenge ends 4/27- a first and second place winner are selected 4/30!** VOTE #82 HERE: Vote For Michael in the Untz Challenge today! —- PS You must create an account, which is cool because theuntz.com is a great live-music community portal to be a part of, and then you have to CONFIRM your vote via e-mail!  Read on to see why it's totes worth the effort.
SBL: A lot of people know you primarily as an astounding visual artist, tell our readers about Michael Garfield the musician?
MG: Honestly, live art was something I just fell into – a serendipitous new turn in my life, over the last few years.  I've always loved art but before I was doing any of this professionally I was a guitar addict – bringing it to class in high school, to the chagrin of my teachers – it was religious.
I've always been into finding my own way with the music, letting everyone sing their own song and making a unique statement that still reaches out on a universal level.  So I got a Youtube education in guitar tapping and looping and other weird, sophisticated techniques.  And now I improvise electronic music on the acoustic guitar.  Ha!
I do what I can to make every show a direct and perfect transmission of that eternal river of creation – to bring people into it.  The guitar is part of my body.  And now all of these effects pedals are, too.  When I'm painting at other people's shows I have a strange feeling of displacement, like I'm a hermit crab out of my shell.
SBL: Does your music, in anyway, relate to your science-influenced artwork?
MG: Totally!  Both of them are inspired by the evolution of the cosmos – a process that transcends and includes what we ordinarily think of as "life." From one perspective, all things from whirlpools to the Internet are dynamic crystals through which energy and information are dissipated.  Right now our co-evolving relationship to technology seems like it's leading us into a singularity beyond which our notions of life and death, inner and outer worlds, past and future, are all going to be radically remixed.
And both the music and art are ways of expressing this slow-motion collision of the organic and machine, of the heavenly and the earthy – a song about our place in the cosmos and our creative role as people in this time of wild change.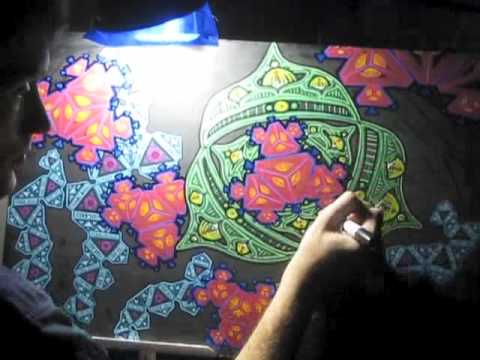 SBL: In your opinion, if U.S. festival culture were missing one element what would it be? And does a festival's location i.e. East Coast and West Coast create different responses for this question?
MG: Festival culture on the whole is so much more diverse than it was even a few years ago, which makes it tough to give you a satisfying general answer.  I wish more festivals had participatory art installations, taught people to be creators and not just consumers.
There's a direct conflict between that ethos and not only the ethos of corporate sponsorship that dominates so many major festivals, but also the scene-orientation of so many supposedly conscious events – you know, "Oh our line-up is sooo conscious!  We're sooo progressive!"  Gag.
Seriously, festivals have incredible potential to offer a safe space for transformation, an environment tailored to crack people open and change their lives.  I wrote about that here:  "The Problem – & Promise – of Festivals."
But what we see a lot of today instead, and this is only a temporary symptom of a temporary culture, is that they took that yearning to dissolve our boundaries in ecstatic embrace, and turned it into a beer commercial.  That's got to change.
Not sure East/West has too much to do with it, although "conscious" and "sustainable" are bigger keywords in the tag cloud hanging over the West Coast.  But that's a fashion preference, I think, more than a real reflection of who is further along than whom.  We're all getting rocked by this time-tide together.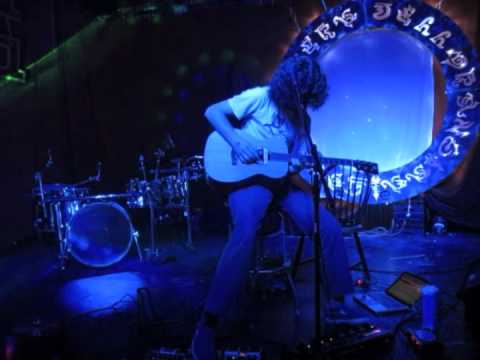 SBL: You're currently in the Untz Challenge for a musical performance position at Wakarusa, Sonic Bloom, Summer Camp, and Electric Forest, how does it feel to be a diverse musician in a competition full of Djs?
MG: As someone who enjoys evading categories, I'm always getting myself into situations!  There's pleasure in being a liminal creature, living on the boundaries, not quite captured by any single perspective. The Japanese call it "miegakure" – when you can't see the whole rock garden from any one point of view.  A slippery, mercurial quality that ancient cultures associated with invention and divine insight (in Greek mythology, Hermes was the courier between the gods and mortals – and he invented the first musical instrument).
Electronic music is SUCH a huge category nowadays.  I really enjoy a lot of the other contributors' work, but I would love to see more people trying to carve out their own sound.  It's the freaking FUTURE, people!  You have the most powerful musical equipment in history at your disposal and you made more dubstep?  How does THAT contribute to the collective in a way nobody else already has?
SBL: What does your music have to offer the festival community?
MG: Lush, organic, heartfelt, intricate, groovy, and spontaneous instrumental electronica performed in a celebration of the absolute uniqueness and sacredness of this and every moment.  A respite from the rage in the still center of your heart – even as it storms and surges.
Something both pretty and deep – and if you're like me, that's what you look for in a lover, so that's what you look for in your music.
SBL: Why should someone who hasn't heard of your music before consider voting for you in the Untz Challenge?
MG: Well, I'd hope they'd listen first, because the music is an appeal to the heart that my words can't reproduce.  But I'd say, vote for two reasons:
1)   Because this is the only musical act even remotely like this on the circuit and you're helping inject some fresh blood into those veins;
2)   Because I'm doing this to empower as many people as possible – by inspiring them to live creatively; and also by inviting painters, hoopers, and other performers on stage with me during my shows.  If I win it'll give me the chance to help other people get their moment in the sun.  That's important to me.
SBL: If you don't win the Untz Challenge can we expect to see you painting while dancing?
MG: Oh you know it.  I'll already be at Wakarusa and Sonic Bloom for sure, as the live art team director for those events.  Come hang with us in the gallery!
SBL: Sparkeberrylane.com encourages everyone to live consciously around the music and world we love, how do you spread the Sparkle?
MG: Mostly through conversation with people who are looking for direction on their path!  This isn't a job, it's a holy calling to uplift and exalt everyone's creative potential.  We're in this together, to build a better world out of the one we have.  Everything I consciously do is tuned to this.  Contact me!
Where can we find all of your work?
I have a weekly email newsletter that makes this easy for people to enjoy:
http://michaelgarfield.blogspot.com
Thank you for listening.  🙂
Vote For Michael in the Untz Challenge today! REPEAT: You must create an account, which is cool because theuntz.com is a great live-music community portal to be a part of, and then you have to CONFIRM your vote via e-mail!  #82 #82 #82 #82 #82 #82 #82
Check out the official competition track here: soundcloud.com/michaelgarfield/michael-garfield-golden-hour
MG: Not only will I give everyone who votes a copy of my Summer 2012 Solstice mix, whether I win or not…I'll also improvise a completely unique set at each festival, record it, and make that available for free to everyone as well!
<<<This interview was brought to you by Christina Sava and Jessica Dugan. You too can contribute to Sparkleberrylane.com. For more information please contact us at Sparkleberrylane@gmail.com.

Fatal error: Uncaught Exception: 12: REST API is deprecated for versions v2.1 and higher (12) thrown in /home/content/84/6481784/html/wp-content/plugins/seo-facebook-comments/facebook/base_facebook.php on line 1273