Sonic Bloom just celebrated its 8th year in Georgetown, Colorado. Evolving each year towards a higher consciousness, Sonic Bloom has been recognized by the Bloom Series as one of the top transformational festivals of the Summer. Sonic Bloom is known as the tight knit festival brainchild of Jamie Janover, tucked into the woods of Shadow's Ranch and surrounded by elements of Earth, Water and Wind. The land is divided by a fresh water creek and united by two narrow bridges both with a stellar view of the surrounding topography.
We stepped out of the car and stretched our bones; filling our lungs with the first breath of crisp mountain air and exhaling a sigh of relief. We had finally arrived at our destination. The challenges involved in getting there were suddenly gone like dust to the wind and excitement swirled in the air like the critters around us. After the long journey from the Arizona desert were ready to make this lush forest our home while literally and metaphorically blooming into oblivion. We unloaded our vehicle which was packed to the absolute brim and started our trek over the bridge into the magical forest that was swarming with life. I was surprised to see how cozy and close-nit the camping was even despite our early arrival. We settled our SparkleCamp at a small clearing to the right of the puddle pathway and dubbed it Sparkleberry Lane.
With the street sign posted and EZ-up poppin' we got to talking with our friendly neighbors- Colorado locals and active participants in the Bloom Experience. Mile High Live crew Trevor and Mike, the creators of the Official Sonic Bloom 2012 Recap were making a comeback to represent and record some of the best talent Sonic Bloom has to offer. Alongside them was Dan, A.K.A. Papa Skunk, who helped solidify a spot for the Mile High Sound Movement artist collective on thursday at the CoDome Stage. He and a few others fellow artists won a Sonic Bloom contest put on by the beloved Cervantes Masterpiece Ballroom of Denver. Another winning neighbor of ours who deserves mention but who's name did not get on the schedule was Kruza Kid A.K.A. Zach. This dreamcatcher was actually responsible for organizing the competition that landed him the set on the Hummingbird stage; way to manifest your goals!
Thursday night was mellow; everyone seemed tense from their travels and ready to unwind. We caught the beginning of Phutureprimitive on the Bloom main stage, and then quickly abandoned it to cross over the bridge to the CoDome. We had to catch some of YuYu, the brilliant collaboration of guitar funk and bass beats that is Omega and Cualli. The CoDome was tonights' lively home of this collaborative creation. The structure was massive and strong, with the best sound of any of the three stages. Despite the chilly nights the dome always offered a blanket of warm and full sound frequency that charged up the vibes. Projections of intricate fractals swirled on the geometric roof, which was partially canvassed to catch the flying digital artwork created by Michael Garfield. The sky and stars peaked in through the uncovered areas in the dome allowing the starlight to spill in among the crowd. Time passes all too quickly when having fun, especially in the CoDome. As I came out of the black hole time warp and ripped my eyes off of the kick ass visuals I felt YuYu's set winding down, disappointed because I hadn't yet heard my favorite song of theirs that had gotten them there in the first place! I began to grow antsy for a change of scenery and then as they began to play their final song I recognized it as the one I was waiting for, Anacondeyez! The Untz loved this jam so much that they chose YuYu to be the winner of their competition for a spot on the line up of this and a handful of other summer transformational festivals. Once you give it a listen you will surely know why. It brings ethnically melodic guitar layered over an ever changing bouncy baseline with a strong Asian feel.
After YuYu wrapped up, Future Simple Project kept the musical variety morphing, I was intrigued by the dready suited men who stood tall behind the equipment. This classy duo sizzled up a sexy composition of new sounds and gave the sleepy crowd something to shake about. They even busted out a Trap remix of Daft Punk's famous Better, Harder, Faster, Stronger to give a small dose of their genre mixing capabilities. These locals represented the musical Mecca that is Colorado with stride and pride. The gang was tired from a long day of driving and dancing; we decided to save our energy and head back to SparkleCamp. The night was fighting day like I was fighting sleep and when I surrendered to the pillow for a much deserved rest it was a grand slumber indeed.
Waking up surrounded by blossoming trees, towering green mountains, singing birds and laughter is an amazing treat in itself. The many smiles beaming on the bright and creative faces of my peers were only made brighter by sharing basketfuls of sweet and refreshing strawberries for breakfast. The same beings who were strangers only yesterday were soon made family overnight by sharing a dance floor, positive vibrations, and berries. So easy. We soon journeyed out into the sun after a quick breakfast and let our yoga mats lead the way. From wonderland, across the long arching bridge, we found ourselves in front of the picturesque pond where slow dancing yogis and yoginis were taking their practice to a new level. Led by the beautiful (and colorful) Rob Loud, our 90 minute Vinyasa journey began with deep meditative breathing to get into the flow and pump up the Prana or "lifeforce". With each breathe you could feel every cell of your being vibrate with excitement and energy. As we took our practice from floor to feet I felt each pose offering a different challenge and reward. I eventually found myself in new poses which stretched my hips wide and my heart open to the expansive experience of Vinyasa Flow. The blue headed Rob then guided us through a series of warrior poses and leg balances which drove my legs to a steady shake; onward we flowed as we took in deep oceanic breaths all the way down the spine. Dozens of us built the internal fire in front of the rising sun before the ponds reflections. Indeed a sight to be sought by the wondering mind- instantly put at peace by the stillness of it all. Distractions morphed to ambiance as we surrendered into corpse pose, awareness dropped to the back of my mind as intense relaxation washed over me. The yoga ceremony trickled to an end as Rob offered a farewell with a beautiful thank you as well as an offer to continue the group meditation while others were free to part. As my last complete inhale filled my lungs, I slowly opened my eyes to the water before me and fully enjoyed the hazy gaze slowly yielding clarity and welcoming this place of complete Zen I had just arrived at. I was ready and renewed. What a great way to start the day!
As I wandered with my other half and our great friend Tom, we felt a steady stream of sweat spreading the soft saffron silt around our bodies; it was definitely time for a wash. The creek was mostly off limits due to raging high waters, so we squirmed into a small shallow area where we could splash in the cold water and rinse off effectively. The water rushed by us and the wind swirled in our dusty hair as we scooped handfuls of cold creek. A coconut oil based salt scrub was employed first, quickly followed by a zesty Doctor Bronner's Peppermint soap. Feeling fresh we made our way to the opening ceremony which was held at the main stage. We were presented with a blessing and message to love and respect each other, the world around us, and all of its beautiful creations. A moment of exploration into your own intent was also explored as each person set their intentions for an amazing Sonic Bloom experience. Many thanks was brought silently to Jamie Janover and Shadows Ranch for bringing this idea into fruition year after year. Hands were held, hugs were spread and the festivities were now made official as everyone was asked to keep themselves here, now, present and ready to love life.
Refreshing the mind and its host with food, water and a whole lot of positive intentions left us ready to groove into the night. Our first stop was Marcutio, who fed us constant creative energy as he mixed his way through his set while adding an array of live percussion and smiles which kept the crowd moving. I had the opportunity to catch this up and coming producer at Lucidity and knew I had to return to the CoDome show some love, and he did not disappoint. My favorite bangin' beat called "the Unseen," a Freddy Todd Remix, kept the fun glitchy technicalities and strange vocal samples that Freddy is known for while adding a healthy dose of his own style. The heavy hip hop influence in Marcutios' music was received smoothly by the crowd: the vibrations made space through the temporal lobe, keeping us hungry for more

Marcuito at Sonic Bloom 2013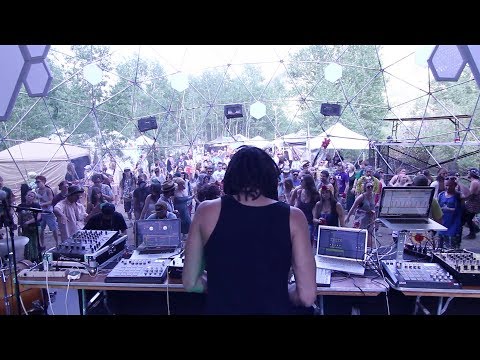 As the dome took on a new performer, I sought out new territories. Shuffling through the vendors we came across a gong powered Sonic Portal. We crawled into the center of the dome without hesitation and surrounded by gongs we began on our journey through the cosmos. The vibrations traded our place in space and fled as our awareness returned. We rose from the Earth, as alive as rebirth and thanked the pilot of the Sonic Portal for his vibrational services. // He and his lovely assistant Sparkle thanked us for receiving their gift and encouraged us to go about our Sonic experience safely and sparkly, even offering us a DanceSafe drug test kit to be sure that if we did choose to dose ourselves that all our substances were straight and at least somewhat safe for human consumption. Sparkleberry Lane always encourages festival goers to rage responsibly!
While journeying through the camps we met many earthly soldiers. All were settled happily in the woods, basking in bliss and exploring the peace around them while exchanging kind words, juicy food, and hugs of community. Filling up for the night is always a good idea, so we took advantage of it and consumed as much goodness as possible, including the company of others and yummy foods and favors that were so generously offered. The darkness slowly took place of the light as we prepared for the Hammered dulcimer and its master, Jamie Janover to take the stage. We settled in the back of audience in order to absorb the big picture and let the echoing essence arrange itself before me. ReSunator, female counterpart to Janovers Dulcimer performance, let out deep ambient vocals and keyboard melodies that took us to a new place of auditory exploration. Slowly building on whale-like reverb frequencies from reSunator, Jamie Janover led the melodic and exotic sounds of his instrument effortlessly as we watched in amazement. The Dulcimer is always a treat as it has a far east sound which originally came from the Greco-Romans but is now played all over the world, including much of Asia, Iran, and Central Europe.  Shortly after Janover and reSunator came the soul-melting, and heart-softening groove master, Random Rab, one of my personal all time favorites. Rab has somehow managed to elicit empathy through sound and love through vibration all with the sexy smoothness of pure cacao, and the sanctity of a truly enlightened being. The best part of it all is that this was only his first of three sets, one being a surprise secret set on the Hummingbird stage late Saturday. Joined by the amazing Cedar Millar on the drums, Rab brought his calming vibes into the night and allowed for a nice transition into any music of your choosing.
Originally I was surprised to see The Grouch and Eligh on the Sonic Bloom line up, but quickly understood their place in the process as they blessed us with their soulful hip hop and deeply expansive lyrics. They bring the communal vibe into an experience as they tell their stories of life struggles, musical journeys, and bring true to oneself, while putting it all into a saucy flow keeping even the most rhythmic rompers impressed. Lyrical talent is a gift well used by these two and I hope to see them continue their festival journeys, with their unique rapping style and swag they are always welcomed at any gathering with raised arms. All though I did not catch these simultaneous acts, I was informed many times that Ill-esha, Michael Travis of The String Cheese Incident, and Prophet Massive each brought the fire in their own ways. For Michael Travis's first ever solo set many people were completely blown away, so lookout for some more of his unaccompanied work at future festivals. I did catch the musical workings of Andreilien (formerly HEYOKA), and with the change of his name I found a progression in his music. A few less intergalactic bubbles, but still heavy on the alien vibes, his music has adapted richer bass heavy layered sounds with more of a dance music bass line progression. You still find the familiar womp-sauce and space-bass within his music, it is just used more sparingly and diversely. After Andreilien lit up the stage, I found my legs no more willing to move than the rocks below me. I shuffled to and fro with my group of Berries© (hahahaha) until the familiar SparkleBerry Lane Camp presented itself. The night continued to dance on with the music, as my heart slowed its tempo and a deep healing sleep took over.
With Saturday morning came a bountiful breakfast of cereal, granola, strawberries, bananas, peanut butter, and of course hazelnut milk. When you keep your body filled with healthy and nutrient packed foods, you are sure to give yourself a chance to feel great. At a long and strenuous festival where you go 100%, breakfast, and regular nutrition is a vital practice. I will never forget the wise words spoken to me at my first festival by an accomplished Burner " This is a marathon not a race, so take care on your first few days otherwise you will be recovering for the rest." On this morning, Jamie Janover gave his talk on Unified Field Theory, which comes from Einsteins goal to unify the basic forces through physics but has been stretched to include a philosophy of humankind. Unified Field Theory basically says that we are all infinite beings within this infinite universe and we are all connected through matter and space as one infinite whole. The messages that are portrayed here are acted out time and time again through our music, yoga, meditation, and human experience as a whole. It leaves room for endless possibilities especially when applied in a space of creative support like transformational music festivals.
With ideas swarming in my head I found my way back to the giant dome which would be my home for much of this event to catch a bit of The Floozies. Now these guys who hail from Lawrence, Kansas are the embodiment of funk as they leave no still feet on the dance floor. With a live drum and guitar setup it was not hard for them to keep their grooves swinging and the funk steady. The crunchy bass sounds that came out of the giant stacked speakers were comparable to KOAN Sound, with a cleanliness only found in seasoned producers. As I wandered to the Hummingbird stage the next artists to bless my ears was the wonderful collaboration of Atomic Reactor and Kll Smth called 2Nutz. I can definitely give credit to their name as often you find a lot of clean, heavy, womping and weaving sounds that are layered into their glitch hop beats. They keep a fun steady sound with natural sounding production and as with every collaboration, two is better than one.
Bluetech, also known as Evan Bartholomew, is a beautiful psybient artist with a keen taste for downtempo music that I soon found at the main Bloom stage. His clever and smooth compositions set him apart from many others, as well as his knack for finding a different style bass groove. It turned out that this night was also the night of his birth, so the entire crowd sang the appropriate tune in celebration. He finished his giant sonic portrait of this moment in time through his unique ambient sound waves, and I journeyed where I stood. Soon after Bluetech on the main stage came the Lucent Dossier Experience. The stunning Dream Rockwell is the genius artistic director/performer who designed this brilliant escapade. It is a deeply experimental experience meant to evoke any and every part of the human psyche and emotional basket hidden within. It is reminiscent of opera, ballet, all sorts of fine theatre, with a circus sideshow overtone, all jumbled together with the heaviest and dirtiest electro-theatre-dubstep. During this performance there was a heavier focus on the music as the group's two producers gave a show that set the mood for the night, which was pure intensity and insanity. Their DJ set bent from genre to genre as each song built on the last, each song with a cinematic story to confuse and compel the mind. A Goddess disguised as a silk rope artist blessed our eyes time and time again while effortlessly weaving in and out of the silken cloth. She also slithered up and down a giant metal crescent moon that hung freely in the air to express her movements to the crowd.  If you haven't seen or heard of this troupe of artists yet, please don't let me be the judge, I highly encourage you to go and seek this one out for yourself- it will take your breath away and fill your mind with sights and sounds only found in the Lucent Dossier Experience. In a neo-tribal dub thumping ritual they stare into the eyes of their onlookers leaving them at a loss for words. After Lucent Dossier left the stage, everyone marinated in the weirdness while entertaining their next move.
The reality of having to choose between Polish Ambassador and the professor ill.Gates set in. Fest World problems!!  I had recently adopted an obsession with Polish Ambassador, which I contribute fully to his newest album Ecozoic (which you can get for free right here!). Although, as excited as I was for the Polish Ambassador, I could not resist the loud calls of ill.Gates in the CoDome.  I soon found myself before the grand speakers and projections of my favorite stage rapidly absorbing the rich nutritious bass. The excitement was contagious as the music morphed to movement within each individual cell of my being. Ill.Gates is a world renowned Ableton specialist; he has developed his philosophy of music production and workflow while continuing to share it with the world through his Ill-Methodology. All of his genius and hard work can be found on his website. During his show I was continually impressed by his flawless mixing and rich heavy bass that penetrated and vibrated to the core keeping the beats heavy to a level that could bring one to their knees. Orange Sky, featuring keen lyrics from Youngsta, was the perfect addition to the cool summer night and an ultra smooth transition into the next set. Gaudi came on shortly after and scrambled the small amount of sanity I had remaining. The montage of analog beep, boops, and bops demonstrated his complete mastery of these tools as he played out in an almost skit like manner, preparing us for his "original" experience. As a veteran in the music game I was soon convinced that most of what I was hearing was analog and from vinyl records, as I did not see a computer anywhere in sight. Out of the speakers came the most gut wrenching, metal grinding, GOOD sounds that made up every genre of music I could think of. He went from dub-step to electro-house, to deep psytrance and even trap music. Meanwhile, he was a bit abusive with his vocal abilities; often time stretching and warping his added vocal track to indescribable primordial gibberish. It was one of the most intense experiences I have had up to that date. His creativity was endless and his musical production was near perfection in every suite that he tried on. Throughout his show he takes a full journey around the globe, from the drum laden Jungles, to the United Kindom, from India all the way to Jamaica, no stones were left unturned. I praise Gaudi as a master of his art, a mad scientist and creative chemist of the most unique performance at Sonic Bloom 2013. I hope he never stops creating, because I will never stop listening!
The night was thick with psychedelia and everyone swayed like seaweed as the tribal swamp stomper, also known as Thriftworks took the stage. He seems to channel ancient shamanic wisdom and feel, deep into the spiritual dinosaur realm where weirdness takes on a new meaning and sound is organized into cutting edge works of art. He has built his sound from the ground up and still remains outside of a genre, constantly bending sound waves to his will. From thick 8 bit video-game madness, heavy saw-tooth bass-lines, to smooth classical guitar samples, he always keeps the slow downtempo hip hop a solid foundation. He leaves the mind and the ears always wondering what they had just experienced with every show including a new mixed out set better and more unique than the last. His newest album Terry-D was woven throughout his set with pterodactyl vibes and old bangers like Tlāloc made their way in as well; all stretched and skewed from their original form, much like myself. He exploded into "Tho Thick," the Terry D classic which spewed energy out of the speakers while grinding its way through everyone's cochlea. At this point it was well past 4:00 AM on Sunday morning. Those of us who were still vertical were slowly draining of energy, holding onto what we had left for the Random Rab sunrise set soon to come.
The night kissed us goodbye as Random Rab prepared to take the stage. We warmed up with the day and shed the layers of our clothing and our ego as the classic elemental sound of pure love and auditory empathy renewed our tired souls. Thriftworks had reminded me of the alien squid factory potential within each of us, while at Random Rab, I have never felt more human. As Rab spread his sparkle I felt compelled to do the same. I ran back to SparkleCamp, got my giant Smokey quartz which I recently started bringing to all transformational festivals, and the final case of berries. Arriving back in the dome I grounded my feet into the earth and held Smokey strong in the air to radiate and amplify the ever present love. I reflected upon my Bloom experience thus far, then suddenly the last week, month, and year. So much process flashed before my eyes and emotion filled my body. As the sun peaked over the mountain top to greet us as a stream of liquid gratitude ran down my cheeks. I had just celebrated my 22nd year on Earth (I have the same birthday as Bluetech!) alongside all of my greatest friends, with my favorite artists in the most beautiful place ever. This was the peak of my Bloom experience, knowing I was in the absolute right place at the right moment, doing exactly what I should be doing. The reaffirmation of my purpose in these types of gatherings was reaffirmed, and though it may sound simple it always seems to be the hardest part, just showing up. To the festival, of course, but also showing up in the present moment and being awake to the needs of yourself, others, to the world around you. Awake to the opportunity to Spread the Sparkle and appreciate the Spark of others.
The juicy red gems were distributed to the family that surrounded me at 360 degrees and genuine smiles of love and gratitude were all around. We poured out love as the historic set continued for an unbelievably blissful four and one-half hours. A slew of other talent graced the stage during Rab's set including Ilya Goldberg and Lynx, and many other familiar faces of dancers and performers from previous nights. Rab praised Sonic Bloom for reciprocating the bliss and admitted that this epic set was one of his favorites in a while. This dome had me thoroughly impressed, I felt so safe, and at home within it. The night had seamlessly shifted to day and had granted us one amazing set right after the next, barely giving us time to explore anywhere else. I greeted all its goodness with open arms and was amazed by the results. Feeling completely satisfied and grounded after Random Rab's Blissfest, we went back to camp for a much needed rest and looked forward to the last day in the magical land of Sonic Bloom, where no one could prepare us for what was next to come.
A strange and almost eerie stillness lingered in the air on Sunday morning, the usual birds were not chirping as loud.  When sirens filled the silence I immediately knew something had gone very wrong. As much as I would not like to dwell on the darkness experienced on that still morning I feel it is my job as a Sparkleberry to observe and report dishing out the wisdom absorbed in any experience good or bad.  A man had been found at a camp site with no life left in his body. In a place where we should be feeling most alive, just the opposite had taken place. Out of respect for the situation and everyone involved I will leave out details and say that the festival coordinators handled the situation as well as they could have given the circumstances. This served as a lesson that even in these magical, almost dream like places, the circle of life continues. We must always take inventory of ourselves and our surroundings and make sure that none of our brothers or sisters are suffering. We are not invincible to the process of life and death, and for every death there is a form of rebirth and life that must take place.  Adding to the chaos, a microburst also blew through that morning, knocking over a trailer and hurting multiple members of the Sonic Staff. The darkness of that morning was contrastingly followed by a Wedding, the second to happen at Shadow's Ranch in the History of Sonic Bloom.
Sunday was slow and a large portion of it was spent reflecting on the chaos of the previous night and swinging in the hammocks alongside the pond. Melancholia was the theme of the day at least until the music was able to stimulate the airwaves. We spilled off the hammocks and nested out over at the CoDome for an orchestral buffet that was Plantrae followed by Ilya Goldberg and the beautiful David Block of the Human Experience. Each musical performance strummed its unique vibrations on the strings of my heart. Later on the main stage Lynx ladled out a beautiful set that was richly influenced by the blues and had her classic beat boxing rhythm syncopated throughout. Following Lynx was the jolly gypsy pharaoh that radiates love while serving out sexy smooth violin and smiles, Govinda. He wished us all a happy father's day and proceeded to penetrate our ears with the warmth of his Celtic Egyptian crunch. The strange energy and unexpected course of events had shifted the line up of plans in a drastic way, not allowing some of the most anticipated performances to take place. However, the Sonic Bloom Orchestra was definitely a masterpiece that was jam packed full of performers including Gaudi, Janover, Lynx, Ilya, Russ Liquid, Michael Travis, Jason Hann, Ill-Esha, Nico Luminous, and much more.  It's kind of a blur, a wonderful, and magical blur.
When I reflect on this series of events that is Sonic Bloom, it really does seem like a dream, especially after finding myself salivating over an overwhelming variety of cereal at sunrise of the final day. The hungry mouths of many munched down boxes full of cereal and expressed buckets of gratitude for the Monday Munch cereal buffet provided to us free of charge. Jamie Janover and his crew do a great job to make sure that any and all needs are met and surpassed while taking part in the Sonic Bloom Experience, this was obvious. After breakfast we migrated back to SparkleCamp and resisted the thought of having to eventually leave this magical place. It had been a true learning experience on the precious quality of life, and the validity of watching out for yourself and others, and most importantly how to Spread the Sparkle and appreciate the Sparkle that others have to spread . Vacancies began to form throughout camp space as more and more people began to part ways. Whoever manned the camping clean up I would like to give major props to as well. I am a huge supporter and advocate in the leave no trace, leave it better campaign, but after seeing so many festival grounds trashed after gatherings just like this, I appreciate the importance of having a working and sustainable system in place for people who just cannot manage to clean up after themselves. Just in case leaving it better and doing your part isn't enough fruit for your labor, every bag of garbage that was turned in was granted a raffle ticket for a chance to win VIP tickets to next year's Sonic Bloom. Brilliant. Bravo.
As Sparkleberry Ambassador of Sonic Bloom 2013 I applaud this gathering as exceptionally beautiful, equal parts magical and elemental, paired with a heartfelt thank you for allowing us to return for our second year here at Shadow's Ranch. Sonic Bloom was a celebration of life and reminder of the vast spectrums of light and darkness in which we choreograph our lives. With the purest intentions, from our heart to yours please respect the process in yourself and others.  Nourish and respect your body and mind, and if you choose to party, please play safely as our friends at the Sonic Portal kindly reminded us. Stay present, pay attention.  The destination we all seek is ever present within each and every one of us, and we're already always there as long as we recognize this Truth.
With Love,
Shannon and Matthew
Shout out to the photographers of the sparkly shots used in this piece. We love you.

Fatal error: Uncaught Exception: 12: REST API is deprecated for versions v2.1 and higher (12) thrown in /home/content/84/6481784/html/wp-content/plugins/seo-facebook-comments/facebook/base_facebook.php on line 1273