If you haven't yet seen or heard of Railroad Earth, don't delay a minute longer; stop everything you are doing (even reading this) and listen:
Railroad Earth's music is progressive bluegrass; they incorporate an interesting combination of stringed instruments with drums (which is rare for bluegrass), but they periodically weave in other fantastic instruments such as the flute, piano, saxophone and of course the pennywhistle. RRE purposefully defies any categorization, describing themselves loosely as "playing rock on acoustic instruments." They have had notable success since their debut at Telluride Bluegrass festival in 2001, and still boast an enthusiastic following of fans around the country.
All the members of the band are extremely talented musicians and their masterful harmonies evidence a dedication to practice and rehearsal. Personally, the music takes me to new places. Often times, I get lost in the sound of frontman Todd Sheaffer's timeless voice and the band's thoughtful and powerful lyrics.
 Although the band has been playing together since 2001, I was a late bloomer and didn't jump on the Railroad track until 2010. At my first show, they were opening up for Yonder Mountain String Band at Red Rocks. I was a die-hard Yonder Mountain fan and my friend Hillary and I had driven four hours through the mountains just to see Yonder play. The opener, RRE, played such sweet, heart-felt music that it made me want to follow them to the moon and back. When I moved to LA from my hometown of Aspen a year after that show, I met almost all of my LA family though our mutual love of Railroad Earth. Together we traveled near and far to make as many Railroad Earth shows as we could. It seems that without the band, I might not know many of my closest friends.
One of the best Railroad Earth shows I have ever seen was in March of 2014, when Railroad played at the Fillmore in San Francisco, California. I had recently moved to San Francisco and was eager to make new friends though the music. However, that show turned out to be more than just a place to meet new people- it was surprisingly spiritual for me as well. I remember running through the crowds channeling a sort of Shiva-like presence and feeling very blissed out by the music. I ran up to one boy and told him he was a reincarnation of the ArchAngel Michael and it turned out his name was really Michael! We became friends instantly and are still friends today.
March 13th and 14th  of this year,  Railroad Earth played a special two-night run for fans in the Bay Area.  In order to get a ticket to the Friday show at the Independent, fans had to also buy a ticket for the FOX in Oakland. Of course, that was easy for me to justify, Michael (the reincarnation of the ArchAngel) and I were some of the first to purchase both nights.  On Friday night, we got all riled up and full of moonshine and made our way over to the Independent in San Fran. Mainly filled with the die hard fans, the venue was packed and completely sold out.  I recognized many friends, some that had traveled very long distances to see the show. Although I was very happy to be surrounded with so many friends, the heat and crowdedness of the venue made it slightly more difficult to reap the full benefits of the music. However, Railroad knew their audience well and played many of their older songs, which was nice to hear. The production was also magical. Railroad always installs a hand painted mandala as their backdrop and Alex, the light guru, who is a true wizard, took the audience on a light journey between the band and the enchanting backdrop. He uses different changing lights and patterns to make the Mandala appear 3D. Todd Sheaffer (lead vocals, acoustic guitars);  and Tim Carbone (violins, electric guitar, vocals) really stood out at this show due to their calming demeanor and happy presence.
The second night of the Bay Area run was on Saturday at the Fox Theatre in Oakland. I decided to bring three of my artist friends who were all Railroad newbies. Toni Tone is a puppeteer based out of Berkeley, Arika Von Edler is a San Francisco based portrait painter and Scotty is a talented steel artist who runs an art collective called the Jenkstars. We made quite a lively and creative bunch and I was super excited to show these wonderful friends a slice of my world.
As soon as we walked in, Railroad was playing "Chasing a Rainbow" loud and clear.  I grabbed Scotty's hand and ran through the doors letting the music hit me like a bat. Time to let off some steam! Scotty twirled me around and Toni ran around us with her favorite puppet, Blue Sky Dragon, who embodied a personality of his own. The usual die hard Railroad fans were there, and I felt at home again. Tie Dye, bell bottoms, onesies, and cowboy boots paraded through the crowd and everyone was dancing and smiling. Luckily, the FOX was the perfect venue for the band; there was plenty of dancing room and places to go explore.
Due to the fact that I was with four artists, the theme of the night was "Life is Art." As Picasso said, "The purpose of art is washing the dust of daily life off our souls." We were doing just that. Toni and I ran around with Blue Dragon the puppet, and eventually we disappeared into the crowd to attack the masses with the Blue Dragon Fire.  The music took us all over the venue and the sweet melodies washed the dust off our hearts.
Railroad was on their game with smooth arrangements and transitions.  Andy Goessling (Acoustic guitars, Banjo, Dobro, Mandolin, Lap Steel, Flute, Pennywhistle, Saxophones and Vocals) really stood out that night. At one point he was like a one man band, playing a perfect banjo solo and then moving over to the mandolin shortly after!
Check out this awesome banjo solo by Andy: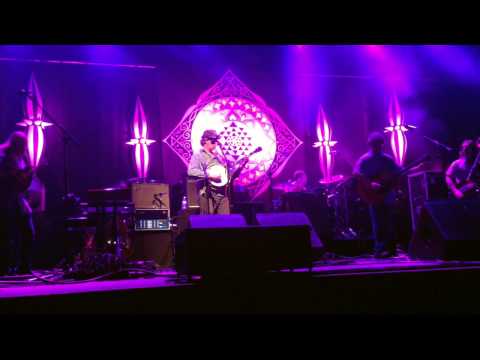 The combination between the music and the friends  brought out the best, and the  wildest within us. As the music played on, I was so grateful to be reminded that happiness cannot be earned, won or bought. Happiness is music, friends, art, love, presence and a touch of Railroad Earth.
If you haven't placed yourself in front of this band yet, I highly suggest you do it soon! They are hitting up some of the best rock and jam festivals this summer, including Del Fest, Mountain Jam Festival, and All Good! Full tour dates and ticket info can be found on their website.
Chuuuu Chuuuu.
Sparkleberry Lane would like to thank Brian Spady for his epic photographic contribution, of RRE in the Bay,  for this piece.

Fatal error: Uncaught Exception: 12: REST API is deprecated for versions v2.1 and higher (12) thrown in /home/content/84/6481784/html/wp-content/plugins/seo-facebook-comments/facebook/base_facebook.php on line 1273