Hardly Strictly Bluegrass is a FREE music festival, held in Golden Gate Park successfully since 2001.  Recently passed, venture capitalist Warren Hellman founded the event with the intention of ALWAYS keeping the festival free and non-commercialized. Corporations have proposed sponsorship, but are continuously turned down in order to keep HSB in line with its roots. In a 2006 interview with NPR, Hellman stated, "Some Texas oilman said money is like manure – I'm sure you've heard the statement – that if you spread it around, good things grow; and if you pile it up in one place, it just smells bad."  Hellman, once a Bay Area Billionaire, took his fortune and love for bluegrass and shared it with the world. Basically, he was a Sparkleberry, and that manure reference was just code for how he spread his sparkle.
In 2011, HSB surged to a size equivalent to San Francisco's population of 750,000 people over its three-day span (wikipedia.org)! Approximations from this year's event have yet to surface but consistent shoulder-to-shoulder traffic throughout the weekend suggests similar results.  I wasn't able to make the event's opening day because Sparkleberry Lane was filming its first episode of Sparkle T.V. with Shpongle at the legendary Warfield.  With only one Sparkleberry in the Bay Area, decisions have to be made. Unfortunately, an interview with Simon Postford meant missing Conor Oberst of Bright Eyes.
On Saturday I awoke with only one mission in mind and that mission was LES CLAYPOOL. I had to work in Berkeley at 5pm, so circling his 3 o'clock set on my schedule was already risky business. Events surrounding the area, including the Navy and Marines' "Blue Angels" airborne show, heightened this gamble but nothing would stop me from the gnarly plucks of Claypool's bass guitar. Overall, synchronized airplanes flipping upside down in the sky became a bonus feature and I wouldn't have had it any other way.
Up for the challenge to catch Claypool and make it back for work were two of my lovely coworkers Nicole and Chalce. Accompanied by my friends in the same boat, my nerves settled a little, and together we embraced the chaos. Before Les we caught a brief segment of the Lumineers but found ourselves too far from the stage to really enjoy the show. Golden Gate was packed with the masses on Saturday and sound absorption stopped after a certain point from the stage. In order to really benefit from these free concerts it was necessary to be precise with whom you wanted to see. Once this conclusion dawned on me I dipped for Claypool with the intention of raging the front of his show.
From the days' earlier experience I studied human traffic patterns in search of the most optimal ways to move through this cluster fuck of people. My results determined that although potentially a burden to those sitting on the ground, the fast track out and to the next stage was through the audience. On this expedition designated pathways were denied and it would take us 15 minutes to be in the familiar sound waves of Les Claypool. As we sprinted the remaining gap, the soul of his strings spoke to me and my mouth began to water. We arrived in our positions at 3:07, which left us with only 30 minutes to not give a damn and rejoice in the pleasures of Claypool's weirdness.  Appropriately bluegrass infused, the set was titled Duo de Twang and featured Les' longtime friend Mirv.  Chris Robinson, of the Black Crowes, made a surprise appearance during "The Battle of New Orleans," which then cued the end of our experience. With a stressful jog across Golden Gate Park and a couple hundred "excuse me's" later we were in a cab and on our way to work.  For the sake of a free Claypool set I'd relive the frenzied experience all over again.
When Sunday's festivities arrived I was happy to know that my presence was only necessary in one place and that was at Patti Smith.   I've been connecting with Patti through her writing for about a year now. Call me crazy but I think my spirit is the unborn love child of Smith and past lover/best friend Robert Maplethorpe.  Seeing her live  was emotional for me, and I'd like to thank Warren Hellman again for his orchestration of the HSB, which eventually allowed me to have this experience.
Patti took the stage dressed in a black blazer with matching sunglasses to protect her eyes from the sun's setting rays. When she spoke, I found myself frozen in the construction of her sentences. It was as if I were lost in one of her books, but this time she was really speaking to me. My eyes got warmer with every word she spoke and eventually tears began to fill up my sparkling blues. While witnessing her empowering dance moves, my hands collapsed to my heart and as she moved to the beat, I found mine. There was an inner Jim Morrison lurking within her performance and her introduction to "Distant Strangers," a song written in 1974, spoke on alien abduction. I figured my ET obsession was channeled through her beliefs and understood her as my spiritual mother the moment she spoke of collective energy.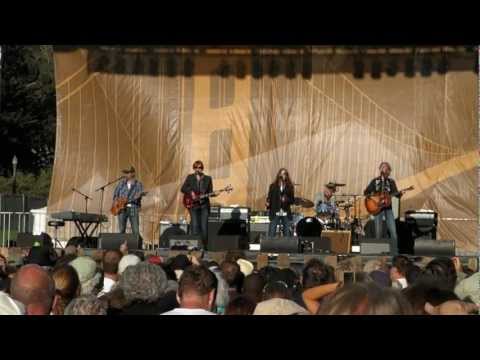 My friends were antsy for Keller Williams so we departed from Patti mid set. Walking away from her performance was like ripping the best pages out of her books. I didn't know why I was leaving but the odd motion was happening.  Before the sound began to dissipate "Because the Night" roared out of the speakers and everyone I was with raced back to her crowd for the remainder of her radical presence! Sorry Ma, I just wasn't thinking straight. Keller Williams, Steve Kimock and Kyle Hollingsworth collaborated for the best ending to my first Hardly Strictly.  For those of you that are familiar with these musicians, you know very well that these artists are into covers and covers the played! "Come Together" kicked off their set perfectly followed later in the set by "Let's Go Outside," a String Cheese original. In between that and Keller's "Freaker Right by the Speaker," fans enjoyed Grateful Dead's "The Women are Smarter." Before the night ended the boys granted me my biggest smile yet with "Naive Melody," a favorite Talking Heads song!
The event's last performance from Keller, Kimock and Hollingsworth left fans grateful for the gift of good FREE entertainment.  In three days, thousands of people indulged in the beauty of Warren Hellman's magic. Although airplanes advertising insurance invaded our skies, they were disregarded and out done by the amazing airborne show presented by the Blue Angels.
Thank You Warren Hellman for your good sense and love of Bluegrass !

Fatal error: Uncaught Exception: 12: REST API is deprecated for versions v2.1 and higher (12) thrown in /home/content/84/6481784/html/wp-content/plugins/seo-facebook-comments/facebook/base_facebook.php on line 1273