Thanks to a status update from my boy Beau I was informed that Simian Mobile Disco was at the Trocadero in Philly (you've got to love Facebook!).  Of course when a duo like Simian from the U.K. comes to town I should know their thumping, but this show came as a surprise to me. I had been listening to the album "Attack Decay Sustain Release" all week daydreaming about the poppy love beats everyone at Ultra was about to feel, drooling with jealousy.  Sometimes if you want something bad enough it just happens, and that was my case this past evening.  I found out about the show around 7:30 and was in the city by 9 glittering my kittens in crime.
The Trocadero was pretty empty for a Tuesday night disco party with Simian; just the way I like it though, more room for explosive dance moves! The opening song was "Sleep Deprivation," waking up any audience member that may or may not have been suffering from it. The set up for the night's performance was just as exciting as the vibrations blaring from the speakers. Simian is the type of group that understands the show as a whole with more then just sound. They believe that if they can't get power to their light source they are selling the audience short… they even have their own lights guy! The light screen behind James Ford and Jas Shaw of SMD resembled a magnified honeycomb or molecule. The audiovisual experience flashed lights to the beat perfectly synchronizing sound waves with delicious colors. Blues, reds, golds and whites blinked for us all as we buzzed like bees verbalizing "Audacity of Huge" lyrics.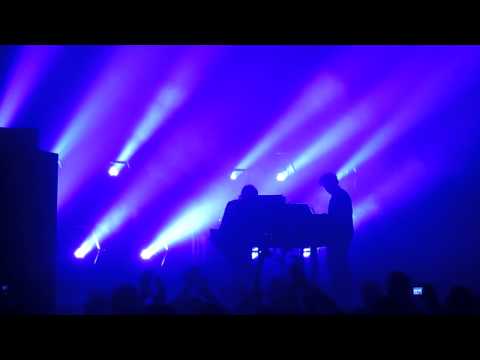 The foreigners on stage got down just as funky as their fans, unplugging and plugging in cords, producing the sounds we were all hyphy for.  On stage sat a round table where the analogue machines and synths were placed. James and Jas both displayed their passion for what they do by fluidly exchanging positions around the 360 degree placement whenever the beat needed changing.  I was making out with the speaker when "Hustler" came on accompanied by jazzy blue and white lights.  This hot song is ironically cool as ice featuring Char Johnson! If you don't know anything about SMD you most definintely should investigate this song.
Listen to Hustler here!
[audio:http://sparkleberrylane.com/wp-content/uploads/2011/03/04-Hustler-1.mp3|titles=04 Hustler 1]
It was 10:54 and the show was supposed to be over at 10:30! I felt blessed for the additional 24 minutes and prayed for more funk electric. It's not everyday you get the opportunity to rage to music like that of Simian Mobile Disco. They really do successfully provide the music scene with a different type of beat to pulse to. Sadly, the group walked off the stage, but thanks to us obnoxious Philly fans we were able to get an encore!! Before I knew it "I Believe" was filling the Trocadero with these lyrics  "I believe you can be, what I need to believe". It was a beautiful jam to groove on through to the end of the night.  After the song ended Simian was removed from the stage! Trocadero staff knows its crowds all to well. Fans like us could stand and protest for hours just to get one more song!  Thanks Simian for stopping by Philly!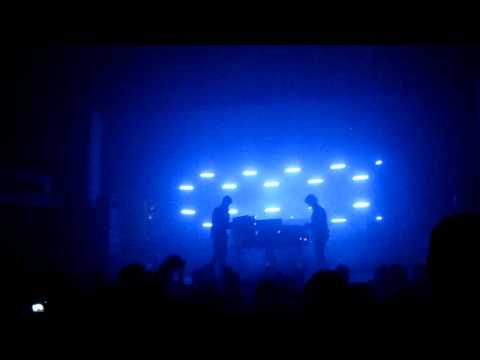 Fatal error: Uncaught Exception: 12: REST API is deprecated for versions v2.1 and higher (12) thrown in /home/content/84/6481784/html/wp-content/plugins/seo-facebook-comments/facebook/base_facebook.php on line 1273