I first convened with Random Rab's elegant sound waves at Lightning in a Bottle 2011; it was here, also, that I was privy to his mesmerizing stage setup, better known as the Infinidroid, (please see videos below) which was co created with Android Jones . To me, Random Rab is like a gentle warm tear rolling slowly down your cheek when you've found yourself in the purest of all moments. The release of his latest album, "Visurreal," has been a powerful musical presence in my life and is a gift to the ears of any listener. Through this interview I was honored with the opportunity to dig deeper into the ways of this musician magician. His words, like his music, are similarly poetic. Please feel free to share a story of your favorite Rab show, or commentary on his album, below. Enjoy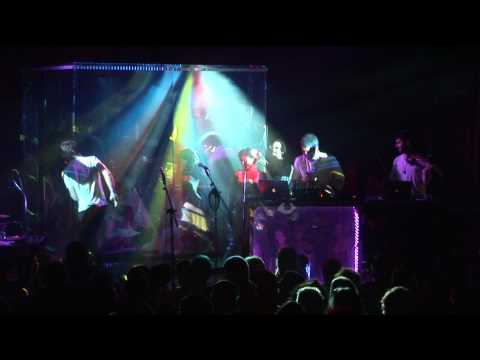 Sparkleberry Lane (SBL): Rab, what makes you Random and is there another name behind all the beauty in which you create?
Random Rab (RR): I feel that the word "random" is very mysterious and powerful.  It is by its nature a paradox and I can't really seem to comprehend what it really means.  I suppose this is why I enjoy it.
Random Rab is an identity that pulls me deeper into the true nature of myself.  This is where I am at my fullest potential.  I also produce music as MOUR and Ocean of River.  MOUR is my so-called trashbin and is generally music that is too heavy or disjointed to be considered Random Rab.  Ocean of River is a side project that is an outlet for my old-timey acoustic music.
SBL: What inspires the magic spells you seem to cast through your music?
RR: My inspiration is the music itself and the worlds it creates.  When the music is pure, then the spell is cast and it feels wonderful.  I sometimes feel like a sleepless shark roaming the sea in constant search of something real.  I know I've found it when it sounds like truth.
SBL: "Visurreal," your most recent album was listed, by iTunes, as one of their top ten Electronic albums, congratulations, how did that feel?
RR: It was amazing and completely unexpected.  I am an independent artist and have very little reach in comparison to other artists with labels and distribution.  I put one posting on facebook and somehow breached the prestigious line of the iTunes Top 10.  For this, I can only thank my fans who made this possible.  They are worth more than any contract.  I hope that this inspires other musicians who may feel small in the monstrous music industry.
SBL: The vocals throughout Visurreal and pretty much all of your releases are tranquil and the lyrics are very dream like, where do you get your vocals? Do you write and record any of them yourself?
RR:Unless noted, all of the vocals are mine.   I write my own lyrics and do the recording at my home studio. I never use any vocal or musical samples I did not create or co-create with other artists.
SBL: How do you come up with your track titles?
RR: This is always a fun and challenging process.  The song titles are like small poems and have great power.  I've learned to be very discerning when choosing the proper title.  I feel like the song title should be like a bell that summons the song to begin.  It needs to feel good to say it out loud without being too complicated or awkward.  If people like the song they'll want to share it with friends and will be saying the title out loud.  I think it's important to make this experience as painless  and meaningful as possible.  Admittedly, I've picked a few song titles that I later regretted.  In fact I believe these poor choices have nearly killed the potential of these songs.  When the title is right, you can feel it resonate with the music and it can be hard to stop saying it in your mind as the music plays.
SBL: If "Dust at Dawn," off of Visurreal, were trying to convey one thing, what would it be?
RR: As with all of my music, I am the student and the song the teacher.  What is conveyed through the music seems to change every time I listen to it.  This particular track seems to convey something about the beauty and hope of death and re-birth.  Everyday we are reborn to the sun and we are quite literally new.  Although a river's water changes at every moment, the name stays the same for centuries.   Can it really be the same river?  It's as if the flow is the river and the water is life itself.
SBL: How often to you play with a live band and who makes up the additional members? What do they play?
RR: Usually it all comes down to budget and stage size for the band experience.  For that reason the band is usually limited to festivals or large venues. The main members are as follows.
Cedar Miller is a percussionist I've been playing with for more than 10 years.  He's still the best rhythm I've ever worked with. Something magical happens when we're on stage together and we have a knack for feeding on each other's energy.
Ilya Goldberg, a Russian virtuoso, plays violin and is impeccable.  He's one of the few musicians I can trust to always play something beautiful.  He is heavily featured on Visurreal and also tours extensively with Emancipator.
Rigzin Tromge often joins me and generally sings in Tibetan.  Although her lyrics are tradition Buddhist prayers, there is something easily recognizable and unpretentious in her words.  It's a huge honor to perform with her.
When possible, Katie Gray joins me on vocals.  She is already a legend as a solo artist and nothing compares to her genuine and golden voice.  She is also featured on Visurreal in the track "Apparently."
David Block is a gifted producer known as The Human Experience.  When we play live he is the man with the giant keyboard making the beautiful melodies that define his musical genius.
Andrew Jones is my main visual component and anyone who knows his work can attest to my belief that he is the greatest living artist of our time.
SBL: What was the mission and vision behind the creation of the Infinidroid and how long have you been performing with it?
RR: I co-created The Infinidroid with Andrew Jones in spring 2011.   The vision was to create something technologically simple with powerful impact.  What makes The Infinidroid special is its mysterious ability to confound the senses.  I believe it helps unveil the illusory nature of light.  By stimulating a sense of visual curiosity, I feel it pulls the observer deeper into the music.  All of our senses become intertwined and the experience becomes visceral.
SBL: Seeing your name on the Coast II Coast roster came as no surprise to me, as this management group tends to hold many of my favorite acts, like Infected Mushroom and Shpongle. What does it mean, to you, to be a part of such a talented collective?
RR: It's truly an honor to share the roster with these incredibly talented artists.  We all can thank Ron Rivlin, the founder of CiiC, for having the foresight and wisdom to bring us all together under his management.  Having had the opportunity to play 40+ shows with Shpongle has helped not only helped my career, but given me the opportunity to learn some wizardry from one of the living legends of electronic music, Simon Posford.
SBL: Your show at Synchromystic, in Seattle, from 2009 is gorgeous and has infused a lot of my artwork and writing. This show holds a special place in my heart and although I wasn't present to experience it, live, I value the euphoria it creates. Do you remember anything specific about this show?
RR: Wow, thanks so much for saying that.  I definitely remember this show and Seattle really came out strong for this one.   I think it was my first show there. I remember this being a real "fam" style event with a northwest twist and no alcohol.  In fact 2 of my cousins came that had never seen me perform live.  I'm so glad this show was captured and I have yet to listen to it myself!  Maybe now I should take a listen.
SBL: I've read into your experience as a musician and the many styles you've performed with, from heavy metal to jazz to country to electronic. It's impeccable that you've been able to adapt through all of these different sounds, what has been your favorite genre to perform? Any chance you'll end up in the metal world again?
RR: I simply love music.  All genres of music are special to me and deserve equal respect.  If music were god, then genres are a lot like religion.  You can spend your whole life in one genre and have a very rewarding experience with music.  On the other hand, if you limit yourself to one mode of expression, you can become judgmental, myopic and lose sight of the greater power of all music.  Each genre is like a tool that can access niche emotions and experiences.  I hope to always keep that in mind and constantly explore music as a whole.  So to answer your question, I'll certainly be doing metal again.
SBL: Do you have anything special lined up for the summer of 2012?
RR: 2012 is like a ripe pomegranate ready to burst open and spill juicy jewels all over the floor.  Once we dance in it, the carpets will either have to be replaced or dyed blood red.  I look forward to many wonderful festivals and shows across the world.  It's certainly shaping up to be the best year ever.
Download a free track and get the complete new album, Visurreal, here!
Don't forget to like Random Rab
Special thanks to Random Rab's additional fans for the videos and photographs.

Fatal error: Uncaught Exception: 12: REST API is deprecated for versions v2.1 and higher (12) thrown in /home/content/84/6481784/html/wp-content/plugins/seo-facebook-comments/facebook/base_facebook.php on line 1273