The Sparkleberry Lane crew had been anticipating Camp Bisco 10 since Camp Bisco 9, where our little project first got its start.  Not only was this year the 10th anniversary of one of the best music festivals on the East Coast, hosted by one of the most prolific, hardest raging bands in the country, but it was the 1st anniversary of the movement of the Sparkleberry.
Now, we know Camp Bisco may have racked up a less than sparkly reputation on the festival circuit since it's inception in 2001, but we've witnessed a transition in its evolution into a more diversly friendly festival, with an eclectic and unique lineup.  Like any festival, Camp had its low marks (see commentary below), but overall it was an impressive weekend not soon to be forgotten.  Five out of seven of the Berries were able to be in attendance, and the other two we carried in our hearts as we saw old friends, made new ones, and reaffirmed our passion for Spreading the Sparkle.
The following is our collective review of the music that was seen, with some general festival commentary at the end.  Between the five of us we were able to see quite a bit of music, as we were in fact, not tied together in a glittery bouquet all weekend (for better or for worse ;)).  We are grateful as always for the festival's ability to bring so much talent into one place.  Please comment below if we missed any artist that was worth a mention!  Here's to another great year of live music and conscious
living!
D = Dugan (Jessica)
J = Josh
A = Abbey
C = Christina
S = Samantha
———————THURSDAY——————–
S: The Miami based duo Afrobeta were the first group to kick off the fest on the main stage. Lead singer Cuci Amador drew me in with her bomb fluffy dress and punky demeanor.  Their set was full of funky mixes and great riffs, however, given my anxiousness to get the fest started, I think I could have danced to the sounds of dial-up internet.
C:  My first move was to support Afrobeta, a staple act in Miami, but little known act in the North East.  I have to admit my favorite part of their performances is always the funky groovy keys played by Tony Smurphio.  The female lead, Cuci Amador, has an amazing and electrifying stage presence.  Her retro disco style voice, if sometimes a little harsh on the ears, becomes infectious to the listener.  After a few originals, including "Nighttime," they dropped into a remix of the Looney Toons theme song, and then a great Thriller cover.
C: After regrouping at the tent, using a flushing toilet, and finding our friend's bangin RV only a few tents away, we headed back to the main stage for AutoBody. Felix (of FutureRock) and DJ Thibault held it down with electro dance riffs.  Keep an eye on Autobody- as this fresh project finds its niche in this scene, I think we'll be seeing a lot of creativity coming from the stage.
A: The first show I got to see at Camp was the glorious and care-free Pimps of Joytime, who never fail to get my feet moving.  Their music helps me see and appreciate the love and compassion in funk music. This was a great way to start off the weekend, and I since knew these were the funkiest sounds I was likely to hear that weekend, I savored every minute .
S:  Pimps Of Joytime came on the main stage shortly after and quickly proved to be a group of very talented musicians. They were all great singers, especially Mayteana Morales on vocals and percussion-  she killed it.  Their soulful, hearty performances, with part latin salsa vibes, blended with Brooklyn's DJ, culture giving their performance a lot of flavor- and prompting a serious shimmy from head to toes.
C: We shuffled to Main Stage right for Beats Antique.  If you've seen Beats Antique before, I don't even need to describe it to you.  Although I love the band, and love the belly dancing, you can only see the same show so many times.  I do remember the sun blazing in our faces from just above the stage and it was somewhat hotter than the music.
S: SBTRKT brought down the dance tent first visually, then second musically.  His face in a tribal mask was projected on to the wall behind him while he sported a similar fabricated mask below.  Gold triangles forced their way out of an electric purple forehead with bright turquoise claw marks.But the most effective feature of the ceremonial mask was the bright yellow straw extending down to the floor like mouth tassels. The whole get up made the song "Wildfire" that much better.
J: As the sun was setting, I saw my last New Deal show ever, which made it extra special.  Dancey as hell and full of energy, I gave it my all for that hour in honor of one of my favorite live acts to date.
J: Cut Copy is my shit and is one of the main people I wanted to catch at Camp this year!  They played pretty much every song I wanted to hear and managed to surprise me with amazing soundscapes of indie disco and love.
S:  Cut Copy kept the smiles pumping. It's a fact that when you role with mad people groups break off into smaller parts  Its rare at a fest that you head to a stage and are surrounded by everyone you love, but at CC I ran into the Sparkleberry family and embraced amongst amazing sounds. The music had such a light bubbly sound and they played did an amazing "Hearts on Fire" cover as the sun set to Dan Whitford's youthful but deep voice.
D:  Super giddy at Cut Copy, Sparkleberry Lane rolled deep with the Colorado crew, grinding sexually in a storm of purple flashing lights. As always, the sequin Bisco flag recruited everyone who wanted to get flossy with some super dancey disco.  Josh Coyle looked like a fucking magician draped in a metallic cape, propped with a cane. Boy did my man get down with that cane, shit I've actually never seen dance moves like that before!  "Lights and Music" was one of my favorites from the set and had our posse getting super jazzy with some serious girl on girl grind. The lyrically inclined ladies defiantly out numbered the gentlemen in our dance pit too, there must have been three lucky dudes romancing in style with 15 bodacious babes. Thank you Alex, Paul, and Josh! By the time "Hearts on Fire" blared through the speakers I had shifted my way towards the left stage for the first Biscuits set of Camp X. Although not in a Cut Copy magic love pit anymore I still got my jam on and discoed out next to all the anxious kids awaiting the Biscuit blast.
BISCUITS THURSDAY: (as experienced by Sparkleberry's own Biscographer)
J: The first set started after a phenomenal performance by Cut Copy.  The sun had set and the Biscuits were ready to give the audience what they had come for, lasers and a full on dance party!  Plan B is a song I've never seen The Disco Biscuits play, only during a "mega Biscuits" show in April 2010 and any show where I catch a song I haven't seen before makes me a happy biscuit!  The band brought along their video cubes they had at Bisco Inferno, along with lasers from the front AND back of the crowd.  To say they pulled out all the stops is putting it lightly.  The next section of Helicopters > Spacebirdmatingcall > The Very Moon > Spraypaint > Helicopters reminded me a lot
of the set from the Inferno run with the Spacebird really standing out to me as the highlight.  Mulberry's Dream was my favorite part of the set and I really felt the band playing with each other during the beautiful peak.  Home Again went into some interesting territory but was a fantastic way to end the first set of Camp.
S:  Skrillex  was a show to remember. Faces around me were painted like cat skulls and sweat dripped nonstop out of every pore under the tent. Bass all around deep and ruthless. People were not
taking his set lightly and came to mosh, me included. He dropped a bugged out This is How We Do It, Montel Jordan sample,  Ludacris' Move Bitch. He remixed Robyn's Dancing On My Own to slow things down briefly before hitting us even harder with the following bass drop. He played Pon de Floor, possibly a nod to Major Lazer and Diplo, since the two are currently putting out music together. (Check out Diplo and Skrillex's new collaboration called Amplifier, it's fire). He also dropped some brand new shit called Right Here, which was appropriate as far as my attention was concerned. I leaned back a little too far during his set and my hair got caught in some dudes zipper.  After I yanked it out awkwardly, I whispered (shouted) in his ear, "You should have bought me dinner first." But he didn't seem to think it was funny, sorry guy.
J:  Bluetech is easily in my top three DJs, especially in a late night setting.  I caught all of his set and had a group of my best friends around me.  The tempo and sexyness of Bluetech's work never ceases to amaze me.  The vibe and energy that his music creates is something entirely to its own and this set proved this yet again.  I will never miss a chance to see Bluetech.
C:  Bluetech dropped his awesome downtempo jungle beats on us that night.  He kept it classy and although my tired legs were on autopilot, I couldn't pull myself away from his set, only wanted to get closer. It was the perfect nightcap to day 1 of Camp, and still one of my favorite shows to see anywhere.
——————FRIDAY—————————
A: Friday rocked: it was wonderful to set up Sparkleberry Lane in between the soundboards and spend time making friends and listening to awesome sets like Papadosio, Easy Star All Stars, and Break Science! Papadosio always brings great energy with their sets but I was pleasantly surprised by how much I enjoyed the cover songs by Easy Star All Stars!
C: Most notable for me was that Papadosio played an awesome Miike Snow "Animals" cover.
S: RJD2 and Break Science sadly went on with out Redman like planned but I was not let down. RJ has been a part of the DJ scene twice as long as many of the acts there proved hes still in it. Break science brought some of my favorite songs like, Ghost Writer and Time to fruition, not to mention Adam from pretty lights was on drums. "Who knows what tomorrow may bring, maybe sunshine the maybe rain."
C: Das Racist offered us some much needed straight up hip-hop on Friday.  It was high energy, conscious lyrics, and great beats.  Definitely the best hip hop act of the festival, sorry Wiz.
C: After some Sparkleberry Lane site mingling and key finding, we headed over to the Grooveshark Tent for the highly anticipated set of The Magician.  Actually, we headed to the Dance Tent, and for a minute thought The Magician sucked and wasn't going to play any disco, but then were corrected by some neighbors and made a mad dash to the Grooveshark Tent.  We got there just as The Magician  dropped his Adele "Rolling in the Deep" remix, which you can hear on Magic Tape 7.  He effin killed it, and we were gettin' down like it was 1973 in the Disco of Bisco. The Magician's real throwback disco set was a diamond in the rough of indie disco bands at Camp this year.  The Magic was dropped on us hard, and next year we vote for a 3 hour Magician set on the Main Stage. All three days.
S:  Fourtet was one of my favorite shows at Camp hands down.  Air was replaced by their Euphoric sounds rendering breath unnecessary.  They bring a uniqueness to the scene that is refined and unlike any other music group's that performed that weekend. Pleasure was fluttering like butterflies in my body. I felt the way colored ink droplets look when dropped in a pool of clear water.
S:  My crew and I had planned on cruising to Shpongle but due to the pouring rain we made the presidential decision  to stay for 12th planet. Respect to all the rain stompers. I gotta admit I was upset only until they dropped the grimiest dubstep I had heard at camp yet. The sides of the tent had water falls flooding down them. the crazy beats bumping inside created a protective beat bubble of safety. The whole back half was empty giving me and my crew plenty of room to stomp around like wild witches casting spells with our moves. A lot of dubstep can get formulaic however 12th planet kept it interesting.
A: Finally, Shpongle. Oh Shpongle. I haven't had a musical epiphany like that in a long time. Having the entire band there made the set feel much more organic; I certainly think the DJ sets with Simon are wonderful, but a totally different experience from actually having the amazing female vocals and quirkiness of Raja Ram. The acts and props they used were not only fascinatingly weird but truly added to the multiple dimensions and depths that Shpongleland creates inside each and every one of us. The rain only added to the majestic nature of the sounds and scene; letting my body move and connect with the ground beneath my feet and the incredible storm above my head was spiritually orgasmic. Thanks to the Lost in Sound crew, I got to rock out even harder with the biggest Shpongle fans I know! Such great energy with such great people! Their set included such sounds as 'Outer Shpongolia', 'Levitation Nation', 'When Shall I Be Free', and my favorite, 'Star Shpongled Banner'. The Shpongle remix of 'Hallucinogen-LSD' was also off the chains. I never wanted it to end.
D: I once wrote about the Shpongletron and described the experience as a tribal rain dance. My description for the tron was a total premonition for Shpongle Live's first U.S. performance and the chaotic lightning storm that broke through the atmosphere spoke truthfully for it. I was literally lost in sound with the use your head crew when I realized that Shpongle could potentially be my new religion. I had an outrageous mind trip throughout the entire set and was slapped in the face with something we all suffer from, ego. Sopping wet I recognized a lot of error and truth in myself and embraced the education. The short but orgasmic set was a mindful expansion celebrated in a torrential down pour.
J: This is easily my second favorite moment of the weekend.  The rain was going strong at this point but I threw on my poncho and made it out to witness the first US performance of Shpongle Live!  The rain added so much to this experience for me and hopefully everyone else.  The sounds created and the intricacy of the entire band was such a phenominal experience to see.  I made my way semi-close to the stage but could see it all perfectly as the rain poured down.  I had heard there was a lot of people wanting for them to play longer but I was happy with the amount of time that they got and felt they utilized it in all the best ways possible, creating an amazing set of music.\
DISCO BISCUITS FRIDAY:
J:  The second night of any consecutive shows always turns out to be my favorite, and the two sets Friday were no exception.  A friend of mine helped write the set lists for his 200th show and I wouldn't doubt his choices for a second so I was ready to dance my ass off.  The beginning of the first set started as the sun was coming down and there was a light rain, two awesome elements for any show.  The ground was now mud and I found myself sliding around as I danced around in my poncho.  Vassilios > Rock Candy > Lunar Pursuit was huge tranced out rage fest and I probably danced my hardest that I would that weekend.  The jam into Story of The World was smooth and kept the driving flow they had created for the set, which found its way right into Basis For A Day, a
true Bisco.  The band jammed out of the beginning section, which isn't too common for Basis, and played into the newer song Catalyst, which is on their new album 'Otherwise Law Abiding Citizens'.  In terms of new songs, this is one of my favorites and I thought it fit well in the middle of Basis for a Day.  The jams were on point.  After playing through Catalyst and jamming a bit out of the song, they worked their way into the middle of Basis and finished strong with the untz jam rage ending, always leaving us wanting more.
The second set contained a lot of songs played in Snowmass, in a similar order, but all songs I love to hear and haven't heard much this year.  I took it all in stride and loved every minute.  The palindrome Astronaut > I-Man > Ladies > Bomb > Ladies > I-Man > Astronaut contained some of the best jams of the weekend and experiencing it all with my huge group of friends made this a very special night indeed!  I especially liked the I-Man into Ladies jam, where each member  played their role with perfection.
C: The rain mostly subsided for that night's Biscuits set, but still left a light drizzle in the air so we could have a repeat of diamonds falling from the sky during the lasers, a la Camp 9.  I appreciated the tasteful use of lasers, and that the Biscuits sounded better than the lasers looked.  They were truly playing like the seasoned vets they are, and everyone around me seemed to be pleased at what they were hearing.  As the Biscuits played we felt safe that they were here to own up to the hype Camp X had created.
C:  We walked to Main Stage B in between Bisco sets for Ratatat, a favorite of mine ever since I discovered them in the library of University of Miami's radio station.  For a first timer at Camp, and a relatively indie tech band, their visuals were impressive:  an outerspace, ambient background with larger than life shadows of the band members in the foreground.  Their music is a complex layering of the different elements, and they expertly brought unique sounds in and out of their songs as if predicting your body's next dance move.  Ratatat delivered an impeccable and impressive set to the enormous crowd, and I absolutely loved hearing "Wildcat" live for the first time.
ORCHARD LOUNGE CAMPSITE SET:
J:  Orchard Lounge played a late night 6-hour set at my camp site this year, similar to last years camp site set, going from an hour after Biscuits ended till well into the morning hours!  We created such a welcoming and comforting environment that it easy to say this was my favorite moment of Camp Bisco X (besides Biscuits).  A large crowd formed throughout and around our site and everyone danced the night away to sexy house and space disco.  I met so many wonderful people, partied with my favorites, and relaxed on our entire blow up campsite!  I can't say there is anything better than falling asleep in my tent, on my air mattress with the thumping sounds of Queen B right in my ear..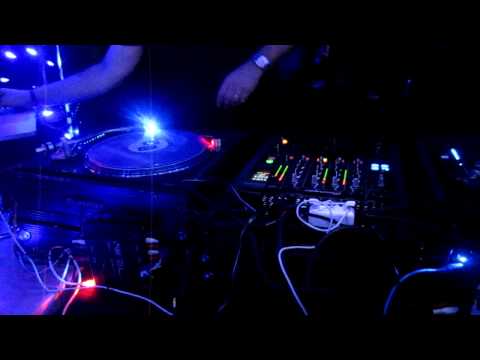 S: Ghostland was nuts. Not only did I get to meet lead singer, Aaron Behrens, back stage, and swooned to his an amazing southern accent, but dude showed me love on stage by slapping my hand during Sad Sad City.   Despite the comical kegstands occurring backstage, Ghostland was the real show: his voice is a dope blend of Jack White and Robert Plant and packs a punchy rock sound.
FRIDAY NIGHT SILENT DISCO:
J: Bookworm's my boy and his 2:15 am set was what I was looking forward to most all evening. Since I couldn't fit in the Grooveshark tent for Ghostland, I disappointedly placed my headphones on mad early and was in for a total surprise during the DJ Theory & Tone vs. Pink Skull set.
Competition was intense and Theory & Tone had mad stage presence with a little bit more to offer then Pink Skull's Brazilian Esq. Although Pink Skull had a fun rhythm to them, they didn't have the lyrical brilliance the right side of the stage had to offer. The Tone side of Theory rapped some deep shit that really hit home hard. Although my headphones were signaling blue for most of that round, I was changing stations frequently to enjoy Pink Skulls' jungle feel.  By the time my baby Bookworm took the stage I was super tired but tearfully excited. Dressed in his Lab Coat tee the man with the plan tickled my eardrums with his soothing beats. I stood as close as I could get to the stage, fingers through fence, and watched Isaac make magic.  Passionately feeling "Maps" lyrics out hard I sang in the silence "Wait they don't love you like I love you," a few tears streamed down my face and I felt satisfied with my Bookworm experience. My body was ready for sleep, and since I was flying solo I didn't have much encouragement to continue mud raging. As the faint whispers of Bookworm peaced from my ears I realized that I was not making a conscious decision, placed my headphones back on and continued dancing slowly to my heartthrob. Fatefully I regrouped with some Sparkleberries present to see Bookworm's "competition" Galdytron.  Getting funky with those chickens saved me and their homie, Ian (Galdytron), threw down. Brother man dropped an "Ignition" remix, and shit was hot!  As we continuously monitored one another's color signal, Bowie of Play Low stepped on stage. This was my first Play Low experience and twas an emotionally enchanting one too.  I zoned in and out, hypnotized by the layers of Radiohead waves in-between Kris Morris' drum pedal.  The SD window from 1-4:45 am weighed heavy on my heart with a lot of emotionally charged music. Although the visuals were super bugged out the music was on point and I met a lot of good people that night/morning.
C:  The Silent Disco experience should always be at Camp, being a once in a life time thing for some people.  The novelty of switching between DJs on the same stage, on one set of headphones is unparalleled in the festival circuit (and is guaranteed to please everyone in attendance).  Plus, it's awesome to be able to catch awesome sunrise sets like Beam & Deem's.
Big ups to Mr. Bugsly Presents and all the awesome VJs for helping create the sweet JUNGLE themed Silent Disco/Showcase stage.  The incorporation of stimulating visuals with live music is a trend we're ready to see blow up.  Definitely the coolest stage set up at Camp.
S: And who can forget The Philadelphia Experiment Stage, aka The Pex Stage was another smaller tent that provided sounds and warmth for chilly children of the night. This was the only stage with pyrotechnics and fire dancers- snuggled right up against the main stage it became the ultimate filler stage. There was no schedule for The Pex Stage, so it was somewhat challenging to know who we saw, but overall, one was rarely disappointed.
——————-SATURDAY—————————-
J:  Day sets are always fun and the sun wasn't beating down too hard, just enough to give everyone a nice tan.  Surrounded by so many friends and great people, the set started with Rockafella, and I mingled and enjoyed the nice jam that came out of the standalone.  It was a nice way to ease into the day and find our perfect spot.  Neck Romancer is my favorite new song, I've only ever seen the song  as a standalone so I was very excited for the jam that worked into The Great Abyss.  Myself and everyone around me were getting down like it was their job [it pretty much was for the weekend].  Out of the entire festival, I can easily say that the section of Great Abyss > Inverted Confrontation > Air Song was my favorite in terms of playing quality.  I am a huge sucker for an inverted Confrontation, and that always gets the justice it deserves.  Air Song is a beautiful tune all around and I will always gladly sing along.  Barber really seemed to step it up during Air Song and the peak they reached was sent down from the Bisco gods.  "World Is Spinning" was a great sing along song any fan will readily throw their hands up to- a great way to end an afternoon breakfast Biscuits set.
C: We headed over to the Grooveshark Tent for Treasure Fingers, and ran into friends from all sides of the East Coast.  As Danny says, "nothing's better than when friends meet friends," and this happened many magnificent times at Camp Bisco.  Treasure Fingers dropped some much needed disco and 80's throw backs, that had us singing loud to the Depeche Mode's remix of Johnny Cash's "Own Personal Jesus".  I was excited to catch his set, having heard of him many times but never seen him live; he's now another DJ I'll be sure not to miss when he comes around.
BISCUITS SATURDAY NIGHT: FIRST SET
C: I can't even talk about last set of Bisco cuz i'm sad it's over.  But hey, NO encore?! Ever?!  AHHHHHHHHH.  I hope this trend doesn't stick.  Favorite motto of the night: "Wait, the Biscuits really aren't playing again?"
J:  I love Spectacle, to open the second to last set of the weekend with it was a beautiful moment for all.  The song speaks to me in so many ways and it has grown to be my favorite composed song by the Disco Biscuits.  I love to hear any segue into or out of Spectacle but they continued with the trend of it as a Standalone at the beginning of a set.  "M.E.M.P.H.I.S." has been creating strong jams that really drive a set and this one propelled the band into an intense "Cyclone", which had been teased over the entire weekend.  Many were stoked that it was finally making its appearance.  The jam into an "Inverted Above the Waves" found everyone playing their best air guitar and singing in harmony, shouting into the night air.  The momentum stayed on top all the way through the end of "Reactor" to end that fast paced section.  "Chemical Warfare Brigade" lumps in with "Plan B" for me as a song I rarely get to see, if at all, but made me that much more of a happy biscuit.  A standalone "Highwire" ended the set and we found ourselves with only one set left for the weekend.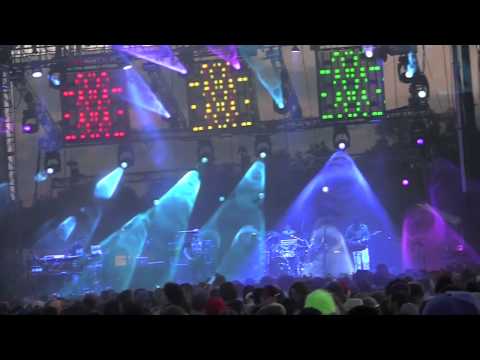 A:  Now I know there are always two sides of the street when it comes to Bassnectar sets, but I thought he crushed it. His new remix of "I can be a freak" turned me into a freak. Ever since Bassnectar penetrated my soul at Basscenter in Asheville last February, I will always crave some Lorin jams.
C: Bassnectar's production seems to have evolved into something barely recognizable as music.  I respect his dedication, but I prefer a more low-key style of dubstep adaptable to intimate venues.  We sat in the way back and had a friendly debate with some self proclaimed "electro purists" that were loving the scratchy, guttural noises coming from the stage.  Friends were made regardless of opinions, but we quickly made our way back to our spot in front of Stage A soundboard for Bisco lovin' (holler at me RVA!).
S: Bassnectar was hard to get to because there were so many people. I felt like the whole festival was at his show. He played an unexpected set and chose to leave out some of the crowd favorites. It was different than any other Bassnectar show I've seen, with more dark and slow  portions to songs
J:  I decided to skip Bassnectar set break- since it isn't my cup of tea- and danced to Dr. Dre at our campsite instead!  Once we heard the band started we decided to make our way back to the spot we had been claiming all weekend (CO Flag!).  On Time is a newer song that the band hasn't been playing much, but I didn't mind missing parts of it as we walked to the stage.  Strobelights and Martinis was pretty typical, but set up the rest of the set and allowed the band to sink into this last set with ease.  I've never seen an inverted "Little Shimmy In A Conga Line" so I jumped around, full of excitement as I usually get during a great Biscuit moment.  The jam out of Shimmy was super jazzy and sexy…my favorite 😉 The jam in and out of Buddha got pretty dirty and driving, the kind of jam where I find my eyes closed and my whole body engulfed in the moment.  The band segued perfectly into Gangster and then right into Tricycle, which I thought was a cool section of the set.  Tricycle is very similar to sections in Digital Buddha musically and to play them close but split up by the instrumental Gangster was smart set list writing in my opinion.  Dropping right into Save The
Robots, my favorite song that I will forever yell at shows, I pretty much lost it and was running around as happy as I could be.  A wonderful way to end a fantastic weekend, full of phenomenal music, the greatest friends in the world, and amazing Biscuits.
—————-FESTIVAL NOTES———————-
Camp Bisco 10, the first sold out Camp ever, was a huge success as far as Camp Biscos go.  The Mariaville campground has always been the best organized festival camp ground, considering never having to walk more than 5 minutes from any stage to any tent, or from your tent to your friend's tents.  This venue however, was not prepared for the amount of people that flooded in.  The water ran out on the first day and we had on and off access to the novel flushing toilets throughout the weekend.  The stage tents could not hold the amount of people that were trying to catch Lotus, Skrillex, Pretty Lights, and the other late nights, and therefore some people missed those acts they were really excited for.  This also creates a dangerous raging environment within the tent (this isn't Ultra!)  We don't think the vendors were prepared for so many people either, and the lines for food were super long in the mornings when we desperately needed a smoothy.
Security seemed to be more impatient with festival goers this year than previous years, honking loudly for people to step out of the way as they barreled their SUVs and golf carts down the gravel roads.  We also learned of several people being expelled from the festival for selling things like feather earrings, which seems a harsh punishment since those people probably still paid for a ticket.  Appreciable was the fact that backpacks with drinks are allowed into the stage area- one of a festival's main sources of income shouldn't come from alcohol sales.  Although it's nice not to have to worry about cops in the venue, we've heard multiple stories of racist harassment coming from the Hell's Angel's gang towards multicultural festival goers- this is NOT an acceptable experience for anyone going to a music festival, and we hope the Biscuits and Meat Camp Productions will take stories of this sort very seriously in planning the next fest.
Now that east coast festivals are reaching such a large group, and wide variety of people, Sparkleberry Lane would like to see more conscious stimulation being incorporated into the production of a festival.  If you read Jess Dugan's review of Lightning in a Bottle on the west coast, it's clear that, beyond putting on music performances, a primary goal of their festival was to enlighten and inspire its patrons.  They had everything from places to meditate, do art, and practice yoga, to speaker-workshops on things like money management and environmental awareness.  There's no reason the East Coast can't embrace this more comprehensive approach to festival production.
Camp Bisco, and most festivals on the East Coast, are noticeably missing a large opportunity to spread awareness and a thirst for conscious living.  One can find all the party favors their heart desires at Wakarusa or Bisco, but there's not much beyond the music to stimulate the heightened
senses.  At Camp there were no official organized yoga classes, which Camp Bisco goers could definitely benefit from, and we didn't see nearly enough live art.  Plus, there were like…5 bands there total and the DJ scene was over represented- leading to a lot of similar sounding stuff (or mixes you've definitely heard before).  Maybe someone should let Sparkleberry Lane plan a festival….  😉
Props to all the volunteers who picked up trash quickly and diligently throughout the weekend, but shame on us patrons for leaving so much of it on the ground.  We, as much as the festival organizers, are responsible for spreading the good vibes and positivity at festivals, and for inspiring our neighbors.    Anything we have to share, from art to hooping to knowledge on the cosmos, should be shared freely.  Lets go beyond just the party, and focus on bettering the collective experience for everyone.
Criticism aside, THANK YOU Camp Bisco, we are grateful for the experience.  We think the Biscuits own festival, from here on out, having sold out and obviously become a staple festival in the East, will grow into the conscious, well thought out festival it deserves to be.  Thank you to everyone who put in the effort to create this festival, and to all the beautiful people we met and reconnected with.  Stay strong, and let's keep doin' the damn thing! SPREAD THE SPARKLE!!!

Fatal error: Uncaught Exception: 12: REST API is deprecated for versions v2.1 and higher (12) thrown in /home/content/84/6481784/html/wp-content/plugins/seo-facebook-comments/facebook/base_facebook.php on line 1273