This article was written by Harry Dinwiddie, a music fan who loves to spread the sparkle.  He's a Charlestonian likely to be seen at every great event, and we thank him for his contribution.
There was a point maybe several months ago that I considered Bassnectar a festival whore. As much as I enjoyed Lorin's shows, there had become a dilution of his name (along with Pretty Lights) when it was on every festival schedule. Seeing Bassnectar at a festival became so much a staple that it didn't even become memorable. Those kind of acts you knew what you would be getting: lots of bass, lots of newbies, packed crowds, decent lights because the sets were in-between bigger ones, losing about 4lbs of water weight from all the sweat lost and all of this packed into a short one hour set. Other than Coachella,I never bragged about seeing Bassnectar.
After Bassnectar's Bass Center 2 in Asheville, NC though, I believe Lorin must start headlining every festival. It is his time.
Keywords seen on forum threads describing the show such as epic, killed, and destroyed seem infinitesimal in
comparison to the feeling felt by 7,500 strong Bassheads. The audience left that arena on a cold February night knowing they had witnessed something they will never forget. The show instantly became something indescribable unless the person you are describing it to was there.
The energy of the place was one of the highest I have ever seen for a show. The specialness of the show itself, Bass Center 2, made the vibe electric. Along with Bassnectar, The Glitch Mob, Ana Sia and Filastine joined the lineup and made for six straight hours of hard, sweaty raging. The first Bass Center was held in Broomfield, CO and had supporting acts Emancipator, Ott, Dan Deacon and Nosaj Thing among others. This Bass Center allowed the east coasters to participate.
Along with the uniqueness of the event, it was also Lorin's birthday. The love he felt from the crowd was shown in the music that he mixed. And he was on point that night. For two and a half hours straight, Bassnectar mixed his songs along with several others, including Daladubz' "Pink Elephants," his staple The Pixies' "Where is My Mind?" and selections from the movie Willy Wonka and the Chocolate Factory. A personal favorite of mine was his mashing of Helmet's "Unsung" with "Bass Head."
To compliment Lorin's grimy bass riffs was the lightshow. Truly one of the most remarkable, sensory-overloaded light shows ever constructed. As usual, Bassnectar's video board was behind him with columns of bright, rhythmic lights on each side. Rising high above the video board was an enormous scaffolding of lumination that seemed to have three different levels or stories. Illuminating the arena for the first three songs, the unsuspecting crowd was given another surprise as two large Close Encounters of the Lost Kind-like spaceship speakers and videoboards were enlightened near the ceiling of the arena. "This makes Phish look like pussies," was one quote overheard that night. "Lorin just dickslapped Disco Biscuits' lasers with these lights," was another.
Other than the one time his computer crashed for a brief moment, probably due to the computer feeling as overloaded as the crowd was, he kept the music hitting hard, and the lights pulsing enough to never allow anyone to stop dancing, much less catch their breath.
Except for this one time. The event had a carnival-like feel the entire evening, including costumed men on stilts. Bassnectar's roaming entourage of helpers, the AmBASSadors, carrying a large Octopus and women dressed in ballgowns and painted masked faces walking gingerly throughout the crowd. About two hours into the show, Lorin
brought the music down and raised a hypnotic blue lighting.  Rising up from the ground were the six women gingerly walking through the crowd on large swings.  The swingers were throwing rose pedals onto the onlookers below and floating high into the arena as Bassnectar spun this awe-inspiring mix that made every person in the auditorium stand still for five minutes.  The crowd looked upon with mouths agape at they finally realized that Bassnectar has arrived as a serious showman.  For years, the swinging song will forever be remembered by all who saw it.  Its sublime nature captured everyone with its beauty, grace and poise, traits not likely seen at a Bassnectar show, but welcomed dearly.
Following this mystical form of entertainment, Lorin unleashed the dragon. His AmBASSadors came through the crowd carrying a massive Chinese dragon while the popular sing song from Benny Goodman, "Sing Sing Sing," was playing bringing everyone back into a party mood before sending in the destructive bass loops. The atmosphere was at its highest peak as everyone started smiling and hugging each other. Whereas most Bassnectar shows are rather independent raging, the collective love was shown on this night.
Between the lights, the show, the event and the music, this night proved how Bassnectar has become a force to bereckoned with, and should not be taken lightly again. His name on the festival circuit will be a welcome sight if shows of this caliber become his norm.
watch this video (set resolution to 720 HD if possible for maximum wompage!):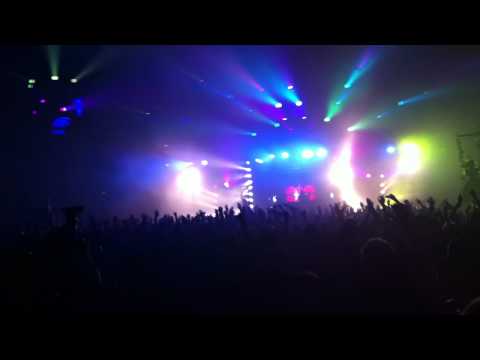 Sparkleberry Lane welcomes contributions from readers.  If you have a Berries and Jam show review or article on living consciously you'd like to share, please email sparkleberrylane@gmail.com.

Fatal error: Uncaught Exception: 12: REST API is deprecated for versions v2.1 and higher (12) thrown in /home/content/84/6481784/html/wp-content/plugins/seo-facebook-comments/facebook/base_facebook.php on line 1273