What: SYMBIOSIS GATHERING 2013
When: September 19th (noon) to 23rd (7pm), 2013
Where: Woodward Reservoir Regional Park, 14528 26 Mile Road, Oakdale, California, 95361
Symbiosis events never dare to disappoint.  History from 2009's unanimously renowned happening, held in Yosemite National Forest, CA, along with 2012's Eclipse Gathering, celebrated at Pyramid Lake, NV, prove the significance of their efforts. Sparing no oversight for their event, Symbiosis continues to set the bar high for West Coast music festivals. This year brings its followers to the Woodward Reservoir in Oakdale, CA. a cool two-hour drive from San Francisco, and a very manageable five from Los Angeles.
Year after year Symbiosis Events have maintained a level of consistency that is sometimes lost by other productions as we live within a saturated festival market. I will remind you, that this group took two years off strictly to find a new suitable venue that was up to their high standards when they were not able to reuse Camp Mather in Yosemite.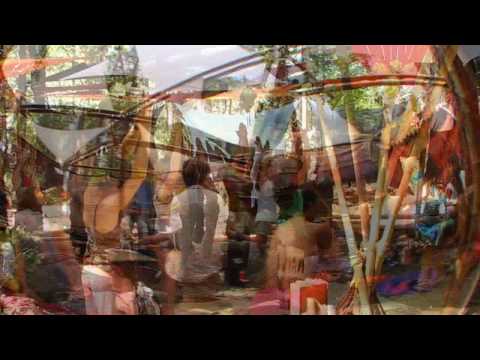 In a summer that multiple festivals were hit with late night sound shut offs, it is been made perfectly clear that there will be all-night sound with zero sound ordinance restrictions! This is music to my ears (pun intended! Hah). I sincerely hope to never see another event full of participants reminding me of puppies, lost from their mother, seeking the embrace of bass post midnight.
Not only can we anticipate all night music, but also Symbiosis brings back the wonder of the lakeside dance floor-one of the biggest highlights from their 2009 event. Being able to swim and hear music at the same time is extremely special! The cool refreshing energy of lake water with a post dip bass dry off is quite delicious, and something anyone can look forward to.
Not missing a beat with their monstrous lineup rivaling and perhaps even surpassing year's past, Symbiosis Gathering hosts over 200 musical acts from all over the world including the US debut of iamamiwhoami, STS9, Mount Kimbie, RL Grime, Active Child, Lunice, Star Slinger, Brodinski, and a return of the ever magnificent and hilarious Vau de Vire Society. This coupling of headliners is paired with West Coast bass music favorites such as An-ten-nae, Russ Liquid, Mihkal, Thriftworks, Shawna, Lynx, and more. For those who love that four to floor beat, Symbiosis will be well represented by artists from Dirtybird, underground house and techno producer Lee Foss, Los Angeles's Pumpkin, Moontribe favorite Terrakroma, and once again much, much more. The sacred tribal bass lineup is headlined by the dub heavy Desert Dwellers, a return of Australian favorite Kalya Scintilla, my favorite on-stage dancing producer Kaminanda, the healing Icaro blessed Liberation Movement, and the krsna mantra infused Dub Kirtan All Stars and the Kirtaniyas.
For those needing a break from electronic music, Symbiosis Gathering is hosting a wealth of live acts and performances to indulge the tastes of those with more acoustic and comedic tastes. For the first time, San Francisco's legendary Edwardian Ball is being transported to the festival, where if you choose to partake, Edwardian period attire, creative goth, stylish steampunk, and beautifully bizarre costumes designed by Edward Gorey await. The Edwardian Ball Roadshow creates an immersive live circus in which we become participants rather than simply spectators through their distinctive music, aerial acrobatics, circus acts, and unique high old fashion. Who ever said ballroom dancing was boring!?
Transformational festivals set themselves apart from typical concerts and raves through their collection of mind-expanding, consciousness rising, and awareness growing classes and workshops. Physical body needs love? Yoga, body and energy work, dancing classes, meditation and breathing workshops, will all be available. Mind and third eye needs some inspiration? Galleries featuring a plethora of visionary artists will be present for visual pleasure.
Dotting the landscape and stages themselves with impressive artistic style, Symbiosis Events permeates with the creative vision of its organizers and contributors with no holds barred. Workshops contain talks about a myriad of subjects from the Alchemy of Cacao to Stargazing. There is also a continued focus on the importance of maintaining ancestral traditions. In a time in which the saturation of media is disconnecting us from our tribe, connecting back to our ancient roots allows for the remembrance of what once was.   Being able to learn, grow, and heal, all within one plane is a doorway of opportunities for the empowered sense of self.
This is just a small fractal of what will be available at Symbiosis Gathering this year! From my symbiotic journeys, I remember, you may create the experience you wish to have. Whether it be a bass filled weekend- hopping from stage to stage following the DJ, to a meditative workshop filled learning experience, to the hybrid of it all-may you find what you are looking for (I know you will!)
For more information about the event, its speakers, artists, and workshops or to purchase tickets, please go to www.symbiosisgathering.com. Tickets can also be purchased at select locations up and down the West Coast or by calling 866-558-4253
This article was written by our homie, Arjuna Wedman ! This will be his third Symbiosis 🙂

Fatal error: Uncaught Exception: 12: REST API is deprecated for versions v2.1 and higher (12) thrown in /home/content/84/6481784/html/wp-content/plugins/seo-facebook-comments/facebook/base_facebook.php on line 1273