On February 6th, 2016, Bob Marley would have turned 71 years old. On that same day the official Bob Marley cannabis brand launched, in partnership with private equity firm, Privateer Holdings, from Los Angeles, CA.   Marley Natural made its debut only 24 short hours after the Women Grow Leadership Summit concluded in Denver, CO. Marley, one of marijuana's most prolific proponents, might have been celebrated significantly on his actual birthday, but his spirit was felt among us, earlier that week, during the Summit. Honoring the plant's medicinal properties, activism, spirituality and business, the great Bob Marley, himself, would have endorsed Women Grow's heart-opening event.
Women Grow empowers women to get involved in the burgeoning cannabis industry while promoting diversity in the sector as a whole. With individual chapters popping up across the nation — and groups emerging in South America and Canada — their organization is spreading, with momentum, globally.
Find your local chapter here.
Nearly 1,200 people, mostly women, gathered over three days between the Ellie Caulkins Opera House and The Curtis Hotel in downtown Denver. On estimate, there was about one man present for every eight women in attendance. In a seamless production, the event cultivated a container for attendees to develop, or expand upon, a supportive community in the growing march towards prohibition's end.
Get up, stand up: stand up for your rights!
Cannabis is a social justice issue uniting millions of people in a fight for what should be simple human rights. At the center of our many battles, with various state legislators, are the sick and dying as well as those who have been penalized by stringent laws. While business opportunities are sizzling, the most important purpose for gathering remains the patients and the lives of so many unjustly locked behind bars.
Melissa Etheridge, the event's rock star keynote speaker, reinforced these points when she shared her experience as a breast cancer survivor turned marijuana-activist. The famous musician confessed she was never a big cannabis consumer during her major touring days. The plant, however, became her saving grace when she underwent chemotherapy treatment. It would be David Crosby, of CSNY, to talk her into utilizing the plant medicinally, not Etheridge's western practitioners! That was in October of 2004, eight years after California had passed the nation's first medical bill, Proposition 215 or what is commonly recognized as the Compassionate Use Act of 1996.
Cannabis is currently illegal on the federal level and wrongfully listed along side heroin and bath salts as a schedule one drug. Under individual state laws, 23 states and the District of Columbia have enacted some form of legalization. Of these states, residents in Colorado, Washington, Alaska, Oregon and D.C. voted to pass laws in favor of recreational use. While nearly 50% of America has some form of legal cannabis, our United States remains divided on the topic.
"Kids are still being locked up for carrying a joint with them in my hometown in Kansas" Etheridge spoke. "Redirecting their lives down a challenging path, these young individuals are punished as if they were actual criminals for something so innocent. We need to change that."
If voters aren't willing to change their minds yet, the money moving through neighboring states eventually will. In 2015, Colorado harvested more than $135 million in marijuana taxes and fees; $35 million of which was funneled directly into school construction projects.
Get up, stand up: don't give up the fight!
Cannabis holds the power to not only heal the sick and reinvigorate our economy, but also further define equality between the masculine and feminine energies on our planet. For a very longtime, our world has operated off a patriarchal system, (I think we can all agree unsuccessfully so) while suppressing the nurturing matriarch. It's taken women decades to reclaim their power and as of 2014, we were still being paid only 79 cents for every dollar earned by men, a gender wage gap of 21 percent! (IWPR.org)
Alicia Syrett, Founder and CEO of angel investment vehicle, Pantegrion, shared a story with the event's attendees reinforcing our present day gender inequality issues. In her presentation, "Your Dollars and Actions are Your Vote," Alicia told us about two identical resumes sent out to hundreds of companies with one small difference: the genders. While the credentials on each resume were exactly the same, the man's copy was accepted, by the same organizations rejecting the Woman's resume, dozens of times.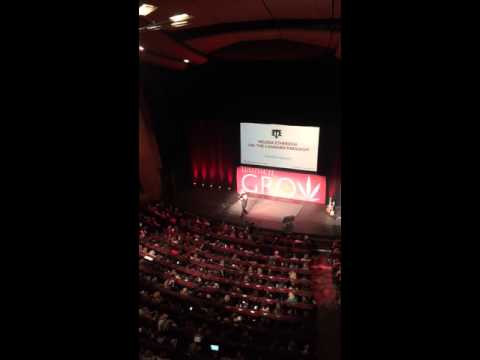 The bud that is the medicine for our people grows from the female plant. She is responsible for creating job opportunities and developing tax revenue streams. Women Grow was founded upon her and has inspired thousands of women and minorities because of her existence. It is no coincidence that marijuana is reshaping lives and the world as a whole during what many spiritual languages refer to as "the rise of the feminine." Cannabis has the legitimate flower power to balance out the outdated patriarch system with its divine feminine essence.
In a more digestible write-up for the less open-minded reader, media giant Newsweek drew upon similar conclusions in its August'15 cover story, "Women in Weed". The article, which featured nearly 30 Women Grow members, suggested legal marijuana could be the first billion-dollar industry not dominated by men.
And now you see the light!
Thursday's production was made up of 34, ten minute, "Lightning Talks" presented by industry experts. Jason Coleman, Director of Sales at Tradiv, a wholesale marketplace for licensed cannabis businesses, said it best when he referred to the day's format as a "Ted Talk after Ted Talk Series."
To name just a few, highlight presenters in the house that day —the elaborate Ellie Caulkins Opera House— included:
With two stretch breaks and a long lunch break, minds and bodies were well taken care of during the day's eight and ½ hour schedule.
Based on personal/business needs, guests could pick from 24, 45-minute, sessions to attend on the final day of the conference at the Curtis Hotel. "Legalizing Adult Use in Your State," "Getting Women's Businesses Funded," "Advanced Interstate Licensing For Cannabis Brands," and "Empathy, Cannabis & Evolution: The Relationship Between Cannabis Strains" were just a few of the topics covered over those six, info-packed, hours.
"Supporting Yourself with Daily Practices," presented by Chicago Chairwoman, Fenesha Hubbard, enabled everyone to get a little vulnerable in a workshop focused on priorities. Self-care was the most common theme inadequately met by those present in the session. Mimicking group counseling, the open discussion on self-care unlocked doorways to healing not only our soul-selves, but also our agendas!
Maureen McNamara, Founder and Chief Facilitator of Cannabis Trainers, held light along one's path to mindfulness in her presentation, "Gracefully Navigating Negativity." Maureen spoke to neuroscience and introduced her audience to the concept of neuroplasticity, which allows us to rewire our human programming. The lecture provided us with five tools to use in the face of life's various negativities.
Dani Geen, Executive Assistant at California based dispensary, Harborside Health Center, spoke to terpenes alongside Jane Fix, Head of Patient Services at Monarch Dispensary in New Mexico. In a presentation titled, "High Cannabinoid Treatments for Chronic Illness & End of Life Care," this speaker duo discussed working with sick patients and how to provide light at the end of one's tunnel through proper dosage and compassionate care.
Sharpening the needle that moves the industry forward are the sector's policy reform organizations. Lindsay Robinson of the Marijuana Policy Project and Amanda Reiman of the Drug Policy Alliance were present for an update on the nation's political climate. MPP is currently working to decriminalize marijuana in Illinois, declare medical in Ohio, Pennsylvania, and Texas and legalize the plant recreationally in Vermont (making it the first east coast state to see fully legal weed), Rhode Island, California, Massachusetts and Nevada.
The Drug Policy Alliance, who is fighting to treat drug use as a public health issue, not a criminal one, was recently backed by Spotify Founder, Sean Parker. Parker donated a large sum of money in support of the "Adult Use of Marijuana Act," which would legalize recreational cannabis in California. As the world's eighth largest economy, the state's economic growth potential holds the ability to influence legalization on a global level.
Ya, You stand up for your rights!
Everyone is willing to fight for love and if there's one thing this conference wasn't lacking, it was exactly that. Oxytocin, the brain's love molecule otherwise known as the bonding hormone, is released by human exchanges with one another in scenarios as intimate as orgasm and as complex as childbirth. First recognized for the significant role it plays in the female reproductive system, oxytocin can be released in ways as simple as the exchange of a smile between two people or during a long-lasting hug. Tightly knitting community, this bliss chemical is also released through laughter, applause and deep breathing. Oxytocin, love's adhesive, flowed abundantly at the Women Grow Leadership Summit significantly strengthening the connections between those present.
"TOGETHER WE HAVE MORE POWER" was advertised inside the event's agenda. This community understands that phrase as an absolute fact. Backing this power is an incredible amount of  scientifically-proven love! This love —  the ONE LOVE  Bob Marley sang into earth's consciousness —  is the love that fuels our fight as we stand up, together, for our rights.

Fatal error: Uncaught Exception: 12: REST API is deprecated for versions v2.1 and higher (12) thrown in /home/content/84/6481784/html/wp-content/plugins/seo-facebook-comments/facebook/base_facebook.php on line 1273