Anticipation surrounded many just weeks before the 2012, Lightning in a Bottle, artist's line up appeared on thousands of computer screens across the world this past March. LIB is held at the Oak Canyon Ranch in Silverado, Ca and is one of our planet's most remarkable festivals having won the Outstanding Greener Festival Award the past two years in a row! LIB is an ongoing evolution that celebrates art, music, performance, sustainability, and life . The Do Lab, an L.A. based collective, tastefully selects each artist, speaker, teacher, and performer in order to create experience as an art form.
LIB is home to one of the festival circuit's most friendly feeding cafeterias and its staff provides vegetarian meals, with the exception of a few yummy fish tacos, all weekend long. The Oak Canyon Ranch also serves as a breeding ground for the live artist's community and like glitter in the sky; the festival sights are sure to fulfill everyone's atmospheric desires.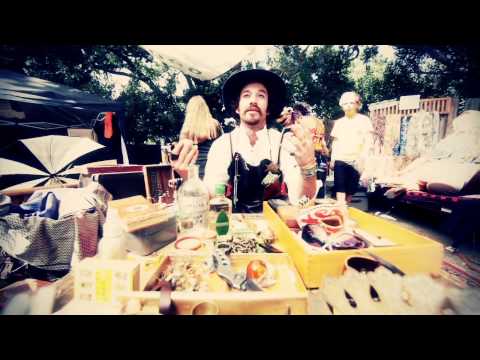 Looking at the line up, from a first glance, I couldn't help but feel a little weary after reading Bassnectar's name dominating the top of the list. For many, Bassnectar has been known to attract a fairly unpopular and much younger crowd!  Pondering here for a moment I reminded myself that I was in the hands of the Do Lab and proceeded to read on confidently.
My spirits rose when coming in contact with Shpongle's name. Shpongle is like traveling on a Tran-safari and the music, aside form the incredible visual experience, allows the listener to visit several dimensions of sound all in the name of psytrance. Sitting next to Shpongle's name read a beloved producer for many, Tipper.  Tipper's chakra balancing sound waves are organically infused with glitch-hop and everyone can be excited to realign their energy under his influence for a first or, maybe, a third time.
Random Rab is always a familiar face to the LIB community and his set is sure to flow a gentle tear from many viewers' eyes. Rab's set along with Karsh Kale's, Gaudi's, and Lynx's are must see performances for the Sparkleberry crew and new favorites of mine including Apparatt, An-Ten-Nae, and Govinda will definitely get my hoop twirling at this event.   I'm also enthralled to see Bluetech and confident that he will bring a mouthwatering performance to the table.
All time favorite acts, of mine, including Eoto, Octopus Nebula, Gramatik, and Opiuo are not to be overlooked and let's not forget about the enchantment, in the simplicity, of a Cello Joe set!  Raw talent lurks everywhere at this festival and I'm looking forward to seeing the Do Lab's very own Luccent Dossier Experience the most!
To feel LIB's empowering effect, at its greatest potential, make sure to indulge in everything the yoga, speeches, and workshops have to offer .  After attending LIB, 2011, I can promise you reader, that the magic in the festival sparks from a collaboration of influences. Highlighted speeches that interest me include Alexis Neely- The Good Lawyer: "Step up and Lead," Heart Math: "Sympathetic Nervous System Decoded," Jill Ettinger: "2012: Did the Mayans Predict a Food Revolution?," and Bashar Channel: "Extraterrestrial Intelligence."
Lightning in a bottle is a blessing for our generation and the experience itself aims to inspire all of its attendees through education. The sights and sounds throughout the weekend are guaranteed to be glorious and the opportunity to re-immerse in LIB's land once again, is an opportunity  that I've been waiting for since I left last year.
So anticipating new attendee, respectful returning visitor, or ambivalent persons in consideration, I hope to cross paths and exchange a smile with you soon.
Let us grow,
Jessica
Check out the rest of the line up here!
Sparkleberry Lane at LIB 2011!

Fatal error: Uncaught Exception: 12: REST API is deprecated for versions v2.1 and higher (12) thrown in /home/content/84/6481784/html/wp-content/plugins/seo-facebook-comments/facebook/base_facebook.php on line 1273